DJ Warrior - Cali Untouchable Radio 5/6/08

Submitted by CUDJS on Fri, 05/09/2008 - 8:33am.
West Coast | DJ Warrior | Mixtape Torrents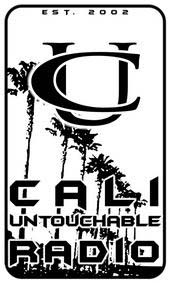 Each week CUDJS will premiere the Podcast download of the latest
edition from DJ Warrior's acclaimed radio show. With the help
from September 7th, J Rez, Stone One & other guest DJ's the Cali
Untouchable Radio show delivers the best in new Hip-Hop music
every week.
Hour 1
01) DJ Warrior - Intro
02) Cashis - Money To Long
03) The Game - N-gga Wit A Attitude
04) Krondon - A Million
05) Phil Da Agony - Think Green Feat. Talib Kweli
06) Tyrant Da Don - Illegal
07) Roccett - All I Know Feat. Akon
08) Ice Cube - Its Takes A Nation
09) Roccett - G Move Feat. Gorrila Zoe
10) The Game - Big Dreams
11) Cali Untouchable DJ's - Dr. Dre Mega Mix
12) DJ Green Lantern - I'm So Fly Feat. Akon, Fabolous & Fat Joe
13) The Game - Pain Feat. Keisha Cole
14) 211 - Just Like That Feat. Snoop Dogg
15) Rick Ross - The Boss Feat. T Pain
16) Quiz - Let's Go Feat. Mistah Fab
17) Nas - Remember The Times
18) Bishop Lamont, Black Milk & Phat Katz - Goatit
19) Wyclef - Sweetest Girl Remix Feat. Lil' Wayne & Raekwon
20) Turf Talk - I Used To Love Ya Feat. Latoya Williams
21) Plies - Bust If Baby Remix Feat. Ne-Yo
22) Focus - It's Not So Hard
Hour 2
01) The Game - 911 Is A Joke
02) DJ Muggs & Planet Asia - 9 Milli
03) 40 Glocc - Lets Get It Feat. 2 Pac & Biggie Smalls
04) Mack 10 - Big Baller Feat. G. Malone
05) Bishop Lamont, Black Milk & Phat Katz - Goatit
06) Jay Rock - All My Life Feat. Lil' Wayne
07) Dilligentz - Punk Rock Feat. The Pack, Go Dav & Sef
08) Turf Talk - I Got Chips Feat. E-40
09) Xzibit - Concentrate Remix Feat. San Quinn
10) E A Ski - Gangsta Funk Feat. E-40 & Mike Marshall
11) Mistah Fab & Yukmouth - Go Damn Dumb
12) Messy Marv - Get On My H Ype Remix Feat. Baby Area
13) Kafani - Fast Remix Feat. Fabolous & Keak Da Sneak
14) Laroo - Tycoonin' Feat. San Quinn & Jacka
15) Dubee - Throw My T's Feat. Mistah Fab
16) Flo-Rida - Elevator Feat. Timbaland
17) Blocc Boyz - Man Up
18) Ace - Gutta Cash Flow
19) Young Rook - Price Is Right
20) Dolla - Who The F-ck Is That Feat. T Pain
21) Ya Boy - Tell Me When They Comin'
220 Lil' Wayne - I'm Me
23) Yukmouth - Make It Rain
24) Clipse - 20k
How To DOWNLOAD