Cali Untouchable Radio 07/08/08

Submitted by CUDJS on Thu, 07/10/2008 - 7:54pm.
West Coast | Mixtape Torrents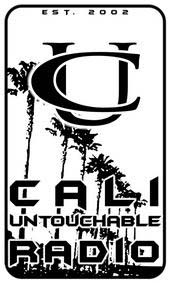 Each week CUDJS will premiere the Podcast download of the latest
edition from DJ Warrior's acclaimed radio show. With the help
from September 7th, J Rez, Stone One & other guest DJ's the Cali
Untouchable Radio show delivers the best in new Hip-Hop music
every week.
1st Hour
1.the game - pain (remix)
2.the game feat. travis barker - dope boys
3.bishop lamont - grow up
4.bishop lamont - kissin the curb
5.kidz in the hall eat pacific division tyga glasses malone mistah fab - driving down the block west coast rmx
6.crooked i - dear pac
7.crooked i feat. akon - dream big
8.nipsey hussle feat. the game - bullets
9.Pain language(dj muggs/planet asia ) - 9mm
10.san quinn - they waitin on me
11.John Legend Feat. Andre 3000 - Green Light

12.N.E.R.D. Feat. Kanye West, Lupe Fiasco & Pusha T - Everyone Nose (Remix)

13.Common Feat. Pharrell - Universal Mind Control

14.Lil Wayne - A Millie Remix Pt. 2

15.Bloodraw Feat. Young Jeezy & Roccett - Louie (September 7th Remix)

16.Bun B - That's Gangsta

17.Birdman Feat. Lil Wayne - I Run This

18.2 Pistols Feat. T-Pain - She's Got It
2nd hour
1.tech nine - lets go
2.ya boy - wide open
3.bloodraw feat. roccett & young jeezy- louie bag
4.kdot - hater love
5.wiz kalifa feat. bishop lamont,glasses malone - say yeah remix
6.Roscoe Umali feat. colby o donis -i got it
7.Snoop Dogg f. Teddy Riley - SD Is Out
8.Laroo f. E-40 - Money Aint Trippen
9.Eddi Projex f, Keak Da Sneak - Breezy
10,Too Short - Blow The Whistle
11.Sterlen Roberts f. San Quinn & Mistah FAB - An Lean RMX
12.Laroo f. The Jacka - 20 Bricks
13.Dem Hoodstarz - Code Of The Streets
14.Big dreams - game
15.That's gangsta - bun b sean kingston
16.Who's hotter than me - piles
17.Who the fuck is that - dolla t pain
18.Lollipop - lil wayne
19.Get like me - david banner
How To DOWNLOAD