DJ Warrior - Cali Untouchable Radio 03/04/08

Submitted by CUDJS on Thu, 03/06/2008 - 10:46am.
West Coast | DJ Warrior | Mixtape Torrents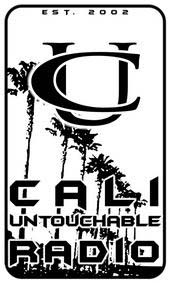 Each week CUDJS will premiere the Podcast download of the latest
edition from DJ Warrior's acclaimed radio show. With the help of
September 7th, J Rez, Stone One & other guest DJ's the Cali
Untouchable Radio show delivers the best in new Hip-Hop music every
week.
Hour 1
01) DJ Warrior - Intro
02) Butch Cassidy Feat. Snoop Dogg - All I See
03) Tyrant Da Don - California Earthquake
04) Snoop Dogg Feat.Mista Fab & Too Short - Life Of The Party
05) Problem - I'm Focused
06) Above The Law - Sex, Money & Music
07) Focus Feat. Busta Rhymes & Bishop Lamont - Shine
08) Bangloose Feat. G.Malone,Roscoe Umali & MistaH Fab - Grey Goose 2.0
09) Jay rock Feat. Lil Wayne - All My Life
10) Young De Feat. Kurupt & B. Real - Too Many
11) Roscoe Umali Feat. Pitbull, Bobby Valentino, Bobby Valentino, E40 & Sinful - Livin' It Up Remix
12) Jay rock Feat. Lil Wayne - All My Life
13) 40 Glocc Feat. Akon - Borrow U
14) Shawty Low Feat. Ludakris - Dey Know
15) Young Joc - Bottle Pop
16) Playa Circle - Duffle Bag Boy
17) Dolla - Who The F-ck
18) Webbie - Independent
19) Rick Ross - The Boss
20) Kanye West - Flashing Lights
Hour 2
01) Jayo Felony - The Loc Is On His Own
02) Warzone Feat. Snoop Dogg - Damn
03) Hot Dollar - Upside Down
04) Young Rook - The Customers
05) Quennie - I'm An Ese
06) DJ Muggs Vs. Sick Jacken Feat. Cynic - Black Ships
07) E40 Feat. 2Pac, Spice 1, Mac Mall - Dusted N Disgusted
08) San Quinn - Shock The Party
09) Spice 1 - 187 Proof
10) B-Legit Feat. Too Short - So International
11) Snoop Dogg Feat. Mistah Fab & Too Short - Life Of The Party
12) Karizamakaze Feat. E40 - Money Don't Fold
13) Tha Jacka Feat. Matt Blaque - All Over Me
14) Lupe Fiasco - Super Star
15) Styles P - Blow Mind
16) Wyclef Jean - Sweetest Thing
17) Talib Kweli - Hot Thing
18) Bird Man - 100 Million
19) Snoop Dogg - Sexual Eruption
How To DOWNLOAD