DJ Warrior - Cali Untouchable Radio 3-18-08

Submitted by CUDJS on Fri, 03/21/2008 - 7:04pm.
West Coast | DJ Warrior | Mixtape Torrents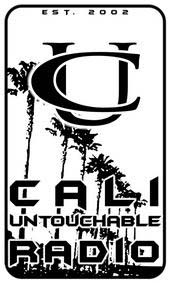 Each week CUDJS will premiere the Podcast download of the latest
edition from DJ Warrior's acclaimed radio show. With the help
from September 7th, J Rez, Stone One & other guest DJ's the Cali
Untouchable Radio show delivers the best in new Hip-Hop music
every week.
01) DJ Warrior - Intro
02) The Game - Big Dreams
03) Roccett Feat. Akon - All I Know
04) Focus Feat. Little Brother & DJ Khalil - Back When
05) Snoop Dogg Feat. Pharell - Sets Up
06) Butch Cassidy Feat. Snoop Dogg - All I See
07) Tyrant Da Don - California Earth Quake
08) Planet Asia, Fashawn & Diego Redd - FC
10) 40 Glocc Feat. G-Unit & Prodigy - Hammers Remix
10) Ice Cube Feat. Scarface & Nas - Gangsta Rap Made Do It Remix
11) Roccett - Function
12) E-40 Feat. Lil John - Turf Drop
13) David Banner - Get Like Me
14) Bun B Feat. Sean Kingston - Gangsta
15) Juice Feat. Ko-Kaine Shane - Gangsta Music
16) Jim Jones Feat. The Game & Kobe - Love Me No More Remix
17) Dogg Pound Feat. Pharell - Cheat
18) Cassidy Feat. Swizz Beatz - My Drink N My 2 Step
19) Lil' Wayne - Im Me
20) U.S.D.A Feat. Roccett & 211 - Respect The Sheild
21) 2 Pac - Break U Off Vs. Elevator (September 7th Remix)
Hour 2
01) Glasses Malone Feat. Akon, Bun B,Kam & Lil Wayne - Certified Remix
02) Roccett - Give U Some Game
03) Focus Feat. Busta Rhymes & Bishop Lamont - Shine
04) Jay Rock Feat. Lil Wayne - All My Life
05) Jacka Feat. Mattt Blaque A- ll Over Me
06) Karizmakaze Feat. E-40 Money Don't Fold Me
07) Snoop Dogg Feat. Mistah Fab & Too Short - Life Of The Party
08) Keak Da Sneak Feat. Prodigy & Alchemist - That Go Remix
09) Doey Rock - Sweeper
10) Turf Talk - We All Getting Paid
11) E-40 Feat. Lil Jon Turf - Drop
12) Yukmouth - Make It Rain
13) Yung Capo F- ast
14) Fat Joe Feat. J Holiday - I Wont Tell
15) 2 Pac - Toss It Up (September 7th Remix)
16) Styles P Feat. Swizz Beatz - Blow Ya Mind
17) Snoop Dogg - Press Play
18) Crooked I - Put On The Game Freestyle
19) Rick Ross Feat. T Pain - The Boss
20) Prime Feat. Butch Cassidy - Here We Are
21) 2 Pac - Enemies With Me (September 7th Remix)
22) Missy Elliot - Ching Ching
How To DOWNLOAD