DJ Warrior - Cali Untouchable Radio 04/29/08

Submitted by CUDJS on Thu, 05/01/2008 - 7:31am.
West Coast | DJ Warrior | Mixtape Torrents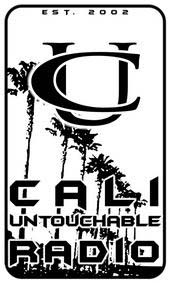 Each week CUDJS will premiere the Podcast download of the latest
edition from DJ Warrior's acclaimed radio show. With the help
from September 7th, J Rez, Stone One & other guest DJ's the Cali
Untouchable Radio show delivers the best in new Hip-Hop music
every week.
1.DJ WARRIOR INTRO
Jrez
2.ICE CUBE IT TAKES A NATION
3.TYRANT DA DON ILLEGAL
4.ROCCETT FUNCTION
5.BUTCH CASSIDY ALL I SEE FEAT. SNOOP DOGG
6.DJ GREEN LANTERN IM SO FLY FEAT. AKON,FABOLOUS,FAT JOE
7.CASHIS WHY NOT
8.ROCCETT ALL I KNOW FEAT. AKON
9.THE GAME BIG DREAMS
10.THE GAME NIGGA WIT A ATTITUDE
11.DR. DRE CALI UNTOUCHABLES MEGA MIX
12.THE GAME PAIN FEAT. KIESHA COLE
September 7th
13.YA BOY KNOCK ON WOOD
14.FAT JOE I WON'T TELL(QUIZ REMIX)
15.THE JACKA FEAT. LAROO WHITE LABEL
16.PLIES BUST IT BABY REMIX FEAT. NE-YO
17.MESSY MARV WHITE LABEL FEAT. J HOLIDAY
18.RICK ROSS I'M A BOSS FEAT. T-PAIN
19.SUGA FREE SHAKE 'EM
20.MISSY ELLITOT CHING CHING
21.SNOOP DOGG SETS UP FEAT. PHARELL
22.SHEEK LOUCH GOOD LOVE
23.CROOKED I SAY DR. DRE
2ND HOUR
Jrez
1.XPLICIT WE GET MO
2.MACK 10 BIG BALLER FEAT. G. MALONE
3.FORTY GLOCC LETS GET IT ON FEAT. BIGGIE SMALLLS & 2PAC
4.JAYROCK ALL MY LIFE FEAT. LIL' WAYNE
5.STRONG ARM STEADY STACK IT UP
Gio
6.TOO SHORT STRIP IT FEAT. TURF TALK & B-LEGIT
7.B.A.Y. DUMDIDUMBDUMB REMIX FEAT. MISTA FAB
8.E-40 DUMN HYPHY
9.KAFANI FASSST REMIX FEAT. FABOLOUS,KEAK DA SNEAK
10.J-B0 GET RIGHT FEAT. KEAK DA SNEAK
11.EDDI PROJEX STRAIGHT OUT THE BAY
12.GUCE & MESSY MARV ORANGE JUICE AND A BLUNT
September7th
13.YOUNG ROOK OUT OF CONTROL
15.SCARFACE GIRL YOU KNOW FEAT. JUICE
16.LIL TUFF FRESH DRESSED
17.OUTKAST DA ART OF STORY TELLIN' PT.4
18.JAY Z I KNOW FEAT. PHARELL
19.ROCCETT G MOVE FEAT. GORILLA ZOE
20.LIL' WAYNE GOSSIP
21.NAS BE A NIGGA TOO
How To DOWNLOAD