Dirty Harry - Dirty Luv Pt. 3
Submitted by mfizzel on Sat, 07/22/2006 - 7:21pm.
Blends | Dirty Harry | Mixtape Torrents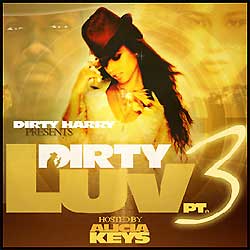 Dirty Harry dropped Dirty Luv and it instantly became one of
the most popular mixtapes of all-time, considered a "classic"
in every mixtape circle. Now, years later, Harry drops two on
you, w/ Dirty Luv II and this joint (both hosted by Alicia Keys).
This classic love mix goes from Michael Jackson to Diana Ross.

1 - Bobby Brown – Roni (Harry Mix)
2 - Jodeci – Stay (Harry Mix)
3 - Quincy Jones – The Secret Garden
4 - BBD – When Will I See You Smile Again
5 - Tevin Campbell – Shhh (Break It Down)
6 - Ready For The World – Deep Inside You Girl
7 - Mint Condition – Breakin' My Heart (Pretty Brown Eyes)
8 - S.W.V. – Weak
9 - Shai – If I Ever Fall In Love (remix)
10 - Isley Brothers – Make Me Say
11 - Force MD's – Tears
12 - Bobby Womack – If You Think Your Lonely Now
13 - Debarge – A Dream
14 - Teddy Pendergrass – Love T.K.O.
15 - Lenny Williams – 'Cause I Love You
16 - Janet Jackson – Funny How Time Flies
17 - Guy – Tease Me
18 - Toni Tony Tone – Whatever You Want
19 - Ohio High – Sweet Sticky Thing
20 - Bobby Cadwell – What You Won't Do For Love
21 - Ramp – Daylight
22 - Roy Ayers – Searching
23 - Marvin Gaye – Let Get It On (Harry Mix)
24 - Mary J. Blige – Sweet Thing
25 - Quincy Jones –
26 - Al Green – Love & Happiness
27 - Rick James – Mary Jane
28 - Curtis Mayfield – Right On For The Darkness
29 - Ronnie Laws – Tidal Wave
30 - Seals & Croft – Sweet Green Fields
31 - Gracie Jones – My Jamaican Guy
32 - Jeff Fusion Lorber – Night Love
33 - Juicy – Sugar Free
34 - Marvin Gaye – Sexual Healing
35 - Mtume – Juicy Fruit
36 - Dennis Edwards – Don't Look any Further
37 - Bernard Wright – Who Do you Love
38 - Emotions – If You Think It
39 - Denise Williams – Cause You Love Me, Baby
40 - Isley Brothers – For The Love Of You
41 - Patti Labelle – Something he Can Feel
How To DOWNLOAD