Dirty Harry - Ghetto Heaven (Remastered - Classic Edition)
Submitted by mfizzel on Mon, 06/19/2006 - 1:55pm.
Classic / Old | Dirty Harry | Mixtape Torrents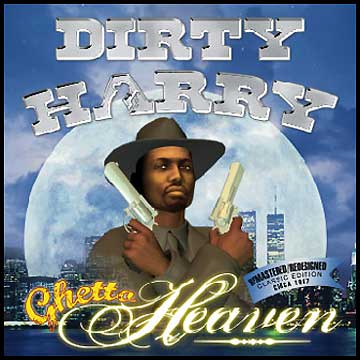 Dirty Harry digitally remasters a 1997 mixtape classic for your
listening enjoyment. This joint is part of the crazy Dirty Harry
Collection and is vintage Harry. Check out the mixes & blends
featuring Jay-Z & Biggie, Nas, Redman, Monica, Mobb Deep,
Tribe Called Quest, The Roots, Lost Boyz, Toni Braxton & more.

1 - Ghetto Heaven Intro, 96 Million Dollar Man- Ras T
2 - Interlude
3 - Nas Super Mix (Harry mix)
4 - Things You Do- Gina Thompson, Redman, Spreadlove
5 - Like A Woman- TonyRich, Cram To Understand
6 - Jay-Z, Notorious BIG- Brooklyn's Finest (Harry mix)
7 - Blackberry Molasses Remix (Harry mix)
8 - Nas- Streetdreams
9 - Aint Nobody- Monica, Bizness
10 - Put It In Your Mouth- Dirty Style (Harry mix)
11 - Baby Love- Groove Theory, Mobb Deep
12 - Twisted Remix- Keith Sweat (Harry mix)
13 - Operation Blend Down (Harry mix)
14 - Lost Boyz Super Mix (Harry mix)
15 - Love Means Nothing- Shades, Roots
16 - Tribe Called Quest Diggy Dog
17 - Tribute To EPMD (Harry mix)
18 - Artic Terror- Artic Circle
19 - Da Heartbreak- Heather B
20 - Rap Figures V (Harry mix)
21 - Nas- Watch Dem
22 - Debarge, INI, PMD
23 - Real Live Mary Sh!t (Harry mix)
24 - Jay-Z- Feeling It
25 - Nasty Immigrants- Dirty Style (Harry mix)
26 - Music Makes Me High- Harry Style (Harry mix)
27 - Ready Or Not Remix (Harry mix)
28 - Nobody Beats The Biz Acapellas (Harry mix)
29 - Its A Party- Zhane Style
30 - Ghostface Killa- Daytona 500
How To DOWNLOAD