Dirty Harry & DJ Self - Hustlers & Ballers
Submitted by mfizzel on Sun, 07/02/2006 - 12:02pm.
Dirty South | Dirty Harry | Mixtape Torrents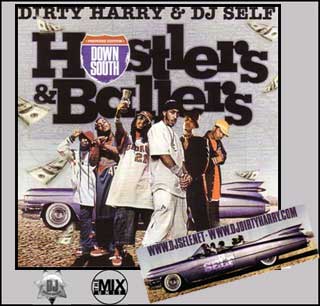 The Return of Dirty Harry
Mixtape legend Dirty Harry is back with his hand in the "Dirty" south game,
rolling up his sleeves and dropping a mixtape classic with the help of DJ
Self. This true mixtape features 34 all-new Dirty Harry blends & exclusives.
Featuring...
Mannie Fresh, Lil' Flip, Lil' Jon, Young Buck, David Banner, Ying Yang Twins,
Big Tymers, T.I., Ludacris, Juvenile, Young Bloodz, Pastor Troy, Trillville, Lil'
Scrappy, Bun B., w/ Bravehearts, Notorious B.I.G., Chingy, Jazze Pha,
Trina, Soulja Slim, Diplomats, E-40, Trick Daddy

1 - Intro - Down South Hustlers & Ballers
2 - East Coast Rap Figure (Ride Spinners)
3 - Lil' Flip feat. Jadakiss - Game Over (remix)
4 - Trillville feat. Lil' Jon - Neva Eva (East Coast remix)
5 - Lil' Jon - All-Star Rap Figures I ("Quick To Back Down") (blend)
6 - Bonecr - Cake Boy Run
7 - Lil' Scrappy - Head Bussa (Murder mix)
8 - Baby aka. "The Birdman" - Hotel (verse), part 1
9 - Youngbloodz - Lean Low
10 - Big Tymers feat. Ludacris & Jazze Pha - Down South
11 - Ludacris & Chingy (verses) - Salt Shaker (blend)
12 - Ying Yang Twins feat. Lil' Jon - Salt Shaker b/w "Nookie Real Good"
13 - feat. Bravehearts & Lil' Jon - Yeah (remix)
14 - Trina - Baddest Bitch "Hotel" (verse), part 2
15 - Soulja Slim feat. B.G. - Heater On Me
16 - Juvenile feat. Bun B. - In My Lab b/w "Poppin' Them Thangs"
17 - Baby D - Make 'Em Say Ughhh (remix verse)
18 - Notorious B.I.G. - Country Niggaz Call Me Frank White (Dirty Harry remix)
19 - Dirty Mouth - Punk Ho
20 - Ason Freestyle
21 - David Banner feat. Lil' Flip - Talk To Me
22 - Beezel feat. Bonecr & David Banner - See About You
23 - T.I. - Be Easy (remix) ("For My Homies" blend)
24 - Bubba Sparxxx & Pastor Troy - Back In The Mudd
25 - Jay-Z - Dirt Off Your Shoulder b/w "Holidae Inn"
26 - Big Tymers - Gangsta Girl b/w "Bout That"
27 - Ludacris feat. Raphael Saadiq - Splash Waterfalls
28 - Lil' Flip feat. Diplomats - Y'all Dont Want It
29 - Mannie Fresh - Get Your Roll On b/w "24's"
30 - Young Buck (verse blend) - #1 Stunna
31 - Young Buck (verse II blend) - Fuck Them Other Niggaz
32 - Yung Wun - Tear It Up
33 - E-40 feat. Lil' Jon, Bonecr & David Banner - Anybody Can Get It
34 - Young Buck feat. Trick Daddy & T.I. - You Don't Know My Name
How To DOWNLOAD