Dirty Harry - Unforgiven
Submitted by mfizzel on Sat, 08/19/2006 - 2:47pm.
Blends | Dirty Harry | Mixtape Torrents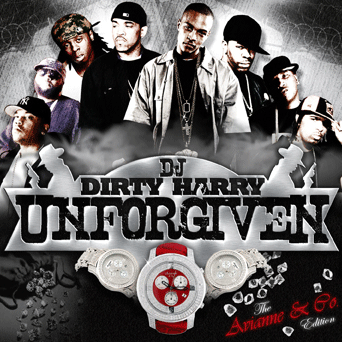 It's been a minute since we've heard from him, but Dirty Harry
comes back with a vengeance on this brand new mixtape. The mixtape
legend makes his triumphant return, and it's obvious he's been
putting in major work in the lab. Another instant classic from DHNY!
Getting down with those world famous Harry remixes, this tape
features blends with some of the biggest names in hip-hop.
Featuring 50 Cent, T.I., Juelz Santana, Method Man, Cam'ron,
Fat Joe, Nas, Notorious B.I.G., Rick Ross, Jadakiss, Styles P,
Jay Z, Kanye West, and more.

01 00:44 - Unforgiven Avianne Intro
02 02:53 Method Man, Juelz Santana, Cam'ron, Styles P., Fat Joe &
03 01:35 Juelz Santana - Gangsta One Blood (Dirty Harry Mix)
04 01:23 T.I - I'm Talking To You (Dirty Harry Mix)
05 01:05 50 Cent - Heartbeat (Dirty Harry Mix)
06 02:39 Fat Joe, Styles P., Fabolous, Game, Papoose, Prodigy & L
07 02:54 Notorious B.I.G. & Jane Nithrow - Sexy Love (Dirty Harry
08 01:59 Cam'ron, Hell Rell & Juelz Santana - Something New (Dirty
09 02:03 Rick Ross - Blow (Dirty Harry Mentality Mix)
10 02:11 - Dramills Freestyl
11 01:13 Jadakiss & Beanie Sigel - Best Of Both Hoods (Dirty Harr
12 02:48 Nas, Scarface, Rick Ross, Young Jeezy, T.I, Juelz Santana
13 02:53 Dramills & Styles P. - To The Movement
14 01:32 Havoc Feat. Lloyd Banks - Speech (Harry Scarface Mix)
15 01:17 Rick Ross & The Game - Ridin' High (Dirty Harry Mix)
16 02:12 Young Jeezy & T.I. - I'm Straight (Dirty Harry Mix)
17 03:00 Dr. Dre, Slim Thug & Lloyd Banks - Get You Some (Dirty Ha
18 03:03 Busta Rhymes - I'll Do Anything (Dirty Harry Mix)
19 01:48 Cam'ron & Young Jeezy - Triple Up (Harry Gun & Roses Mix)
20 02:10 Nas - Where Y'all At░-░Public Enemy (Dirty Harry Mix)
21 01:39 Jay-Z & Kanye West - Number 1 (Dirty Harry)
22 03:02 Dramills & Joe Budden - Frontin' On Hoes (Dirty Harry Mix
23 02:20 Mobb Deep - Stole Something (Dirty Harry Mix)
24 02:16 LL Cool J & Lloyd Banks - Bump This (Dirty Harry Mix)
25 02:44 Fat Joe & Lil' Wayne - We Gettin' Money (Harry Shootouts
26 02:29 50 Cent, Havoc, Freeway, Raekwon, Sheek Louch & Maino - R
27 02:20 German Luger Feat. Big Pun - It's Not A Game Pa
28 01:10 Nas - Black Essence
29 01:12 Jay-Z - Back Like That (Dirty Harry Mix)
30 03:28 - Dramills Outro
31 02:47 - Bonus Track 1
32 00:39 - Bonus Track 2
How To DOWNLOAD