DJ Butta - Makaveli Pt. 5 (7 Deadly Sins)
Submitted by mfizzel on Sun, 09/24/2006 - 3:17am.
West Coast | DJ Butta | Mixtape Torrents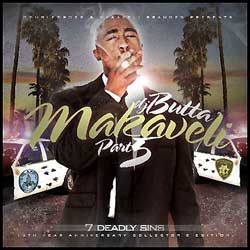 It's been a decade since the late, great Tupac
Shakur passed away, but the rap superstar
has never managed to leave the public forum.
Concocting more death conspiracies than there
are Elvis sightings, the hip-hop world and the
media have kept the memory of 2pac aka.
Makaveli forever alive.
With the 5th edition of his famous Makaveli: 7
Deadly Sins mixtape series, DJ Butta is back
with the 10th Year Anniversary Edition to
commemorate the recent anniversary of his
death. Featuring rare, unreleased, original and
remixed Tupac tracks, this one is a must-have!

1 - Intro
2 - Throw Up Ya Gunz feat. Kool G Rap, Young Buck
3 - What You Gonna Do
4 - Komradze feat. EDI, Big Syke
5 - Uppercut
6 - Fuck Em All
7 - 1996 Revisted
8 - Hail Mary (Clear mix)
9 - I'm A G feat. Pharrell
10 - Loyal To The Game feat. T.I
11 - If I Die 2night
12 - Only God Can Judge Me
13 - U Can Be Touched feat. Outlawz
14 - Thugz Mansion
15 - Mama Cry feat. Dead Prez
16 - Let's Fight feat. Boot Camp Clik, Outlawz, Asu
17 - Don't Sleep feat. Nutso, Outlawz
18 - Gotta Get Mine feat. MC Breed
19 - Don't Stop feat. Outlawz
20 - Picture Me Rollin' feat. Big Syke
21 - Last Niggaz Left feat. Outlawz
22 - Don't Fall Asleep feat. Outlawz
23 - My Style feat. Greg Nice, Outlawz
24 - Survivor Interlude
25 - Life Goes On
How To DOWNLOAD