DJ Fatal - 2Pac: The Underground Railroad
Submitted by mfizzel on Sat, 09/16/2006 - 12:35pm.
West Coast | DJ Fatal | Mixtape Torrents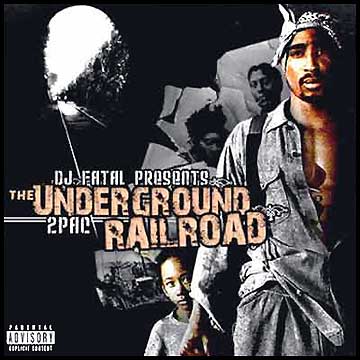 While DJ Fatal is certainly not the first one to have remixed the late, great Tupac Shakur, but
he always throws a new twist into the mix with a unique style of blends & production combined
with a knack for classic and rare verses.
With his two previous Tupac remix releases – Shining Serpent (#1) and The Lost Tape (#2) –
fairly popular on The Mix Unit, DJ Fatal is back for a lucky 3rd round with this Tupac remix
classic The Underground Railroad.
On this edition, Fatal pieces together new and old verses of 2pac tracks to all-new beats to
assemble a collection of nearly 20 deadly remixes. Featuring cameos by Akon, Outlawz, Big Syke,
Mopreme, DJ Quik, Spice 1, Dramacydal and more.

1 - Intro
2 - Holler If Ya Hear Me
3 - N.I.G.G.A. feat. Akon, Mouse Man & Mopreme
4 - The Uppercut feat. Sista Soulja & Asoka
5 - Fuck Em All feat. Outlawz
6 - Open Fire
7 - Thug 4 Life
8 - Dear Mama 2 feat. Isyss
9 - Loyal To The Game feat. Big Syke & DJ Quik
10 - Ready 4 Whatever feat. Big Syke
11 - So Sick 2 feat. Lil Bit
12 - Thugs Get Lonely Too feat. Rated R
13 - When We Ride On Our Enemies
14 - Hell 4 A Hustler feat. Outlawz
15 - Only Fear Of Death
16 - I'm Losin It feat. Big Syke & Spice 1
17 - Thug Nigga feat. Asu & Marc Spitz
18 - Enemies With Me feat. Dramacydal
19 - Black Cotton feat. Mouse Man
20 - Outro
21 - Spit Your Game (Freestyle) Romey (Makaveli Branded Artist)
22 - What You Want (Freestyle) Romey (Makaveli Branded Artist)
How To DOWNLOAD