DJ Clue - Fabolous: Loso's Way (Rise To Power)
Submitted by mfizzel on Tue, 02/28/2006 - 6:49am.
Mixtape Directory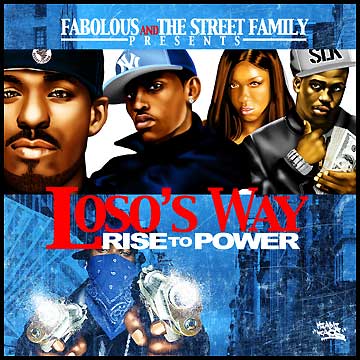 Fabolous originally signed to DJ Clue?'s Desert Storm team after he
blew up all over mixtapes, thanks mostly to Clue?'s continuous support.
Having made a name for himself in hip-hop (and making sure everybody
could spell it: F-A B-O L-O U-S), the greasy BK rapper returns to his roots
to introduce his Street Family label with a double mixtape of freestyles.

DISC ONE
1 - Loso's Way Freestyle - Fabolous
2 - They Like Me - Fabolous
3 - Can I Live - Fabolous feat. Ransom, Paul Cain, Stack Bundles & Jaz
4 - Baby (remix) - Fabolous feat. Lil Mo
5 - Bling Bloaw Part 2 - Red Cafe feat. Fabolous & Paul Wall
6 - Whatever I Wan' Do - Fabolous
7 - How We Do It - Fabolous feat. Young Jeezy, Slick Pulla & Paul Cain
8 - Walk Like It, Talk Like It - Fabolous feat. Ransom & Stack Bundles
9 - Don't Forget About Us (remix) - Mariah Carey feat. Fabolous & Styles P.
10 - Get Yo Money - Fabolous
11 - Murda (We Don't Believe You) - Fabolous feat. Paul Cain
DISC TWO
12 - You Can't Slow Me Down - Fabolous feat. Red Cafe & Joe Budden
13 - The Hitmen - Fabolous feat. The Lox & J Hood
14 - You Don't Know Freestyle - Fabolous
15 - Smokin' & Sippin' - Fabolous feat. Paul Cain & Magnificent [produced by CHOPS]
16 - Computer Love - Fabolous
17 - Bars R' Us - Fabolous feat. Ransom & Paul Cain
18 - Gotta Go Freestyle - Fabolous
19 - Sit Em' Sideways - Fabolous feat. Bleu Davinci
20 - Some Say - Fabolous feat. Dilli & Paul Cain
21 - Just Grind - Fabolous feat. Busta Rhymes
22 - I'm The Sh*t - Fabolous
23 - Make It Hot - Paul Cain feat. Notorious B.I.G.
24 - Dale (remix) - Don Omar feat. Fabolous & Swizz Beatz
How To DOWNLOAD