DJ Drama : T.I. - The Leak
Submitted by mfizzel on Tue, 01/03/2006 - 8:52pm.
Dirty South | DJ Drama | Mixtape Torrents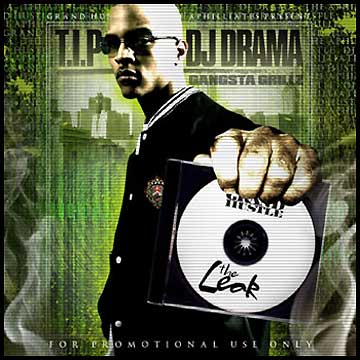 DJ Drama puts out this CD A.S.A.P. after a gang of tracks from T.I.'s
upcoming album The King apparently leaked (hence the mixtape's title).
With the Gangsta Grillz hustler already T.I.P.'s personal DJ, you know
this mix is official. Hosted by T.I., this mixtape features the tracks that
were apparently leaked + 10 never-before-heard unreleased exclusives.

1 - The Leak
2 - Drug Related
3 - Front Back Side To Side w/ Bun B
4 - You Ain't Fly
5 - Business As Usual
6 - Fresh
7 - Macboney - Thru The City
8 - Fly As Me w/ Governer
9 - We Pimpin w/ Sleepy Brown
10 - Young Dro & Xtaci - 100 Yards
11 - Ride Wit Me
12 - Dip Slide Ride Out w/ Big Kuntry
13 - Grand Hustle PSA
14 - I Told U So
15 - Do U Remember w/ Governer
16 - P$C - Who Them Bols
17 - Big Kuntry, Mike Jones, Young Dro - Ol Skool
18 - Stand Up Guy
19 - Look At All These Rumors!!!!
20 - P$C - Grand Hustle Radio
21 - Xtaci - If U Really Want That
22 - Bootlegger Bashin Part 5
23 - I Can't Help It
24 - Do U Really Want Me w/ Governer
25 - Grand Hustle PSA #2
26 - Live In The Sky
How To DOWNLOAD