DJ Drama - Young Buck: Case Dismissed (The Introduction To G-Unit South)
Submitted by mfizzel on Mon, 02/06/2006 - 1:12pm.
Dirty South | DJ Drama | Mixtape Torrents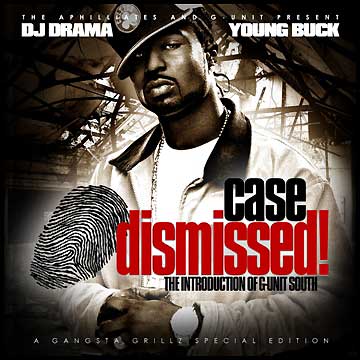 DJ Drama celebrates Young Buck's legal victory in his case resulting
from his arrest at the VIBE Awards with this huge mixtape introduction to
the new G-Unit South branch. Cashville's own lays down mad exclusive
freestyles and tracks while also acquainting you with the talent coming
out his G-Unit So. stable: Lil' Scrappy, D-Tay, Lil' Murder, Hi-C, All Star.

1 - Case Dismissed!!!
2 - Come And Catch Me feat. Lil' Scrappy & All Star
3 - You Can Get It Too feat. D-Tay
4 - real niggas Across the World
5 - Here We Come feat. D-Tay, Lil Murder & HI-C
6 - I Need A Freak
7 - Move It Like I Do feat. D-Tay & Hi-C
8 - Once A Month!!
9 - Postin Up feat. Shannon Sanders
10 - Where The Haters At feat. All Star, Lil' Murder, & Hi-C
11 - I'll Be Back
12 - Let's Get Dirty feat. D-Tay, Lil' Murder, & Hi-C
13 - G-Unit South
14 - G Shit - All Star
15 - Hood Love
16 - Money In The Bank feat. Lil' Scrappy
17 - Sippin' Purp feat. D-Tay
18 - Pop A Pill feat. D-Tay, Lil' Murder, & Hi-C
19 - We The Fuck Outta Here!
20 - War Witcha Homeboy
21 - Shout Out To Pimp C & Project Pat
How To DOWNLOAD