DJ Rukiz & Quess - Southern Soldiers #2: G-Unit South (Buck, B.G. & Scrappy)
Submitted by mfizzel on Tue, 02/21/2006 - 8:33am.
Dirty South | DJ Rukiz | Mixtape Torrents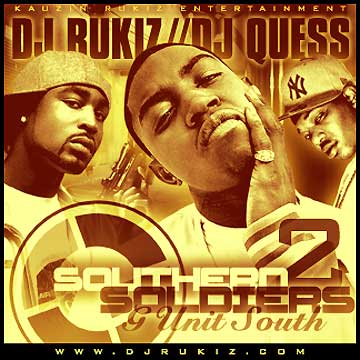 DJs Rukiz & Quess follow up Drama's G-Unit South CD with his own
version, this one perhaps a bit more speculative. Imagining a G-Unit So.
team of Young Buck, Lil' Scrappy and B.G., this Dirty South mixtape
works out more like an All-Star team. Featuring more than 30 new tracks
and freestyles from three of the South's biggest mouths...G-G-G-G-G!!

1 - Intro
2 - Stack That Paper - Lil' Scrappy
3 - Got Mine - Young Buck & - B.G.
4 - Gun Slinger - B.G.
5 - F.I.L.A. - Lil' Scrappy
6 - Kill 2 Birds - Young Buck
7 - Running With My Chopper - B.G.
8 - Just A Lil Bit Freestyle - Lil' Scrappy
9 - Still Tippin' Freestyle - Young Buck
10 - I'm Out Here - B.G.
11 - Ride Like Me - Lil' Scrappy
12 - Chronic Freestyle - Young Buck
13 - Drop It Like Its Hot - B.G.
14 - Black Tee (remix) - Lil' Scrappy
15 - Shorty Wonna Ride With Me - Young Buck
16 - What You Want To Do - B.G.
17 - No Problems - Lil' Scrappy
18 - Bonified Hustler - Young Buck
19 - Order 20 Keys - B.G.
20 - Peace Up A-Town Down - Lil' Scrappy
21 - Soldier - Young Buck
22 - Uptown - B.G.
23 - Don't Put Your Hands On Me - Lil' Scrappy
24 - High Than A Mothafucka - Young Buck
25 - Fuck That Shit - B.G.
26 - Southside - Lil' Scrappy
27 - Stomp - Young Buck
28 - Thought I Was Gone - B.G.
29 - Put It In The Air - Lil' Scrappy
30 - Last Of The Dying Breed - Young Buck
31 - Where They At - B.G.
32 - Getting Money All Day
33 - Outro
How To DOWNLOAD