DJ Smallz - Dirty RnB 10
Submitted by mfizzel on Mon, 01/16/2006 - 9:09am.
Mixtape Directory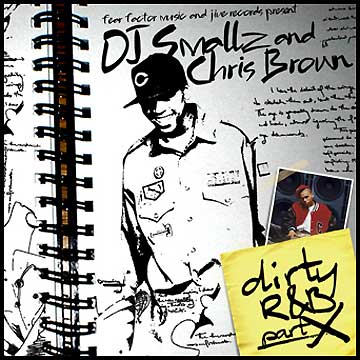 DJ Smallz gets it in with Chris Brown, the barely-able-to-drive R&B
superstar that's tearin' up the charts with his hit single "Run It." Hosting
this mixtape, Brown helps Southern Smoke break down all-new crunk-&-B
featuring Mariah Carey & JD, Mary J Blige & Stat Quo, 112, Ludacris &
Gwen Stefani, Jagged Edge, Ciara & Jazze Pha, Jeezy & Lloyd, D4L...

1 - DJ Smallz & Chris Brown – Dirty R&B Intro
2 - Chris Brown feat. Jazze Pha – One More Chance (not on album)
3 - Beyonce feat. Slim Thug & Bun B – Check Up On It (remix)
4 - Mariah Carey feat. Jermaine Dupri – Don't Forget (remix)
5 - Mary J. Blige feat. Stat Quo – Be Without You (remix)
6 - Jagged Edge – Seasons Change
7 - Ciara feat. 112 & Jazze Pha – ATL
8 - Daron feat. T.I. – Party In Room 1202
9 - Lil' Flip – Put This On Girl
10 - Bone Crusher feat. Too Short – Get No Lower
11 - YoungBloodz feat. T-Boz of TLC – Is It Good?
12 - Lil' Jon feat. E-40 & Sean Paul (of Youngbloodz) – Snap Ya Fingers
13 - Jagged Edge feat. Big Duke – Sexy American Girls
14 - Ryon Lovett & Rico Love – Makin' It Hot
15 - Twista feat. Trey Songz – Girl Tonight (New Verses)
16 - Trey Songz feat. Sizzla & Bob Marley – Gotta Go (remix)
17 - Gwen Stefani feat. Ludacris & 4-Ize – Luxurious (DTP remix)
18 - Ludacris feat. Bobby Valentino & Notorious B.I.G. – Livin' The Life
19 - Jazze Pha &.Cee-lo feat. Snoop Dogg – Happy Hour (Collipark remix)
20 - Nelly feat. Diddy, Jagged Edge & Notorious B.I.G. – Nasty Girl
21 - Young Jeezy feat. Too Short & Lloyd – Tear It Up (remix)
22 - T-Pain feat. Mike Jones – I'm N Luv Wit A Stripper
23 - Big Boi feat. Daz & Kurupt – Kryptonite (DPG remix)
24 - D4L feat. Busta Rhymes & Twista – Laffy Taffy (remix)
25 - Bohagon feat. D4L, Crime Mob & Lil' Jon – Wuz Up
26 - Project Pat feat. The Roots – Should I
27 - DJ Smallz & Chris Brown – Outro
How To DOWNLOAD