DJ Kay Slay - RnB Model Edition Pt . 2
Submitted by mfizzel on Tue, 11/29/2005 - 5:22pm.
Mixtape Directory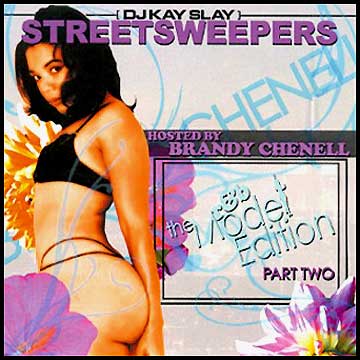 DJ Kay Slay brings you the 2nd volume of his R&B Model Ed. mix
featuring the sexy young lady Brandy Chenell — This sexy R&B
mixtape features tracks w/ Mary J. Blige & Jay-Z, Beyonce & Slim
Thug, Chris Brown, Jamie Foxx & Ludacris, Ashanti w/ Paul Wall &
Method Man, Donell Jones & JD, Nicole Wray, Nas & Tre Williams...

1 - Brandy Chenell Intro
2 - Mary J. Blige feat. Jay-Z - Can't Hide From Love
3 - Beyonce feat. Slim Thug - Check It Out
4 - Ashanti feat. Paul Wall & Method Man - Still On It
5 - Donnell Jones feat. Jermaine Dupri - Better Start Talking
6 - Cam'ron feat. Nicole Wray - Do Your Thing
7 - Jagged Edge feat. Voltio - So Amazing
8 - Razah feat. Fatman Scoop - I'm In Luv With You
9 - Jamie Foxx feat. Ludacris - Unpredictable
10 - Nas feat. Papoose & Tre Williams - Black Girl Lost 2005
11 - T-Pain feat. Stat Quo - I'm Sprung
12 - Gwen Stefani feat. Slim Thug - Luxurious (remix)
13 - Mary J. Blige - Be Without You
14 - Chris Brown - Yo
15 - Sheek Louch feat. Carl Thomas - One
16 - Bobby Valentino - My Angel
17 - Ginuine - When We Make Love
18 - Kem - I Can't Stop Loving You
How To DOWNLOAD