DJ Love Dinero - Lloyd Banks: The Blue Hefner Mixtape
Submitted by mfizzel on Mon, 06/26/2006 - 6:13pm.
East Coast | DJ Love Dinero | Mixtape Torrents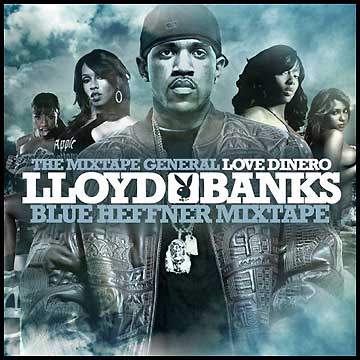 DJ Love Dinero takes you 45 tracks, freestyles, verses, remixes &
classics deep with mixtape flow from the G-Unit's youngest in charge
Lloyd Banks. With Banks set to release his sophomore LP The Rotten
Apple some time soon, Love D aka. The Mixtape General bring you a
cool 45 joints from the G-Unit punch-line stunta. Bringing you the most
recent mixtape cuts, including joints featuring G-Unit, LL & Mobb Deep.

1 - My House feat. 50 Cent
2 - Cake feat. 50 Cent
3 - Get That Money
4 - Freeze (remix) feat. LL Cool J & 50 Cent
5 - 70 Bars
6 - Put Ya Handz Up
7 - Number One Draft Pick
8 - You Already Know (remix)
9 - Breathe Easy
10 - Who Shot Ya
11 - Story To Tell
12 - Stole Something feat. Mobb Deep
13 - U, Me, Him, Her Pt. 1
14 - U Ready
15 - International Flow
16 - Doin My Own Thang
17 - Stay Gangsta'd Up
18 - Poppin' Bottles
19 - Bangers
20 - After My Cheddar feat. 50 Cent & Tony Yayo
21 - U, Me, Him, Her Pt. 2
22 - I Smell Pussy
23 - Got The Hood On Smash
24 - Round Here
25 - G-Unit Anthem
26 - Elementary
27 - Banks Workout
28 - They Ain't Ready
29 - Get Shot Up
30 - Parkin Lot Pimpin
31 - U, Me, Him, Her Pt. 3
32 - Move
33 - Fall Back
34 - It Can Get Ugly
35 - Rap Shit
36 - U, Me, Him, Her Pt. 4
37 - Niggas Ain't Hood
38 - Young Black & Gifted
39 - Mad At Banks
40 - Still Dre Pt. 1
41 - Still Dre Pt. 2
42 - Breathe
43 - Playboy
44 - Thief's Theme
45 - Touch It (remix)
How To DOWNLOAD