DJ Noodles & David Rush - Feel The Rush Vol 1
Submitted by mfizzel on Mon, 09/15/2008 - 6:39am.
East Coast | DJ Noodles | Mixtape Torrents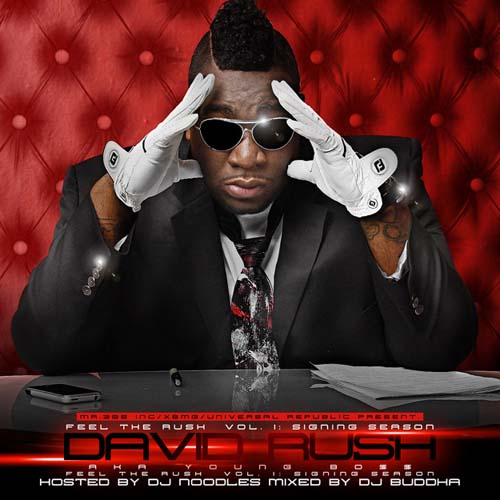 It's Signing Season! DJ Noodles lines up for this new release with David Rush, aka Young Boss to deliver "Feel The Rush Vol 1: Signing Season." Noodles links up with DJ Buddha to present a crazy street album from New Jersey's own David Rush, celebrating his new record deal with Pitbull's Mr. 305 Inc. and Universal Republic. Rush has the smash single "Shooting Star" buzzing worldwide on radio right now, and Noodles gives you a deeper look at the XBMG representative, with 20 bangers including the crazy DJ Noodles produced "My Muzik" featuring fellow Mr. 305 Inc artist Kornbred and Fix Your Face's own Trazz!
01. Mr. 305 Intro (Pitbull)
02. Fresh To Def (Prod. Soundz)
03. Hussle Man (Prod. Lynx)
04. My Muzik (ft. Kornbred, Trazz) (Prod. DJ Noodles)
05. In New Jerzey (Prod. Soundz)
06. As Seen On TV (Prod. A.G.)
07. Chillin
08. Cold Young World (ft. Antigua) (Prod. Lynx)
09. Can You Hear Me (Prod. Lynx)
10. Hands Up (Prod. D.R.)
11. Streets Keep Callin (ft. Redd) (Prod. Lynx)
12. Fly Away
13. One More Night (Prod. DJ Wonder)
14. Shooting Star (ft. Pitbull) (Prod. AYB)
15. Where U Wanna Go (Prod. AYB)
16. XB Gang (ft. Billie The Kid, DR, Grand Final, Manolol) (Prod. AG)
17. DJ Noodles Speaks
18. The Life ft. Mama Boss (Prod. AYB)
19. Heavy In The Trunk (Prod. Pointblank)
20. Finally Made It (Prod. Lynx)
How To DOWNLOAD