DJ Noodles & DJ Drama - Fix Your Face Radio 12
Submitted by djheat1200 on Wed, 03/25/2009 - 1:53pm.
General | DJ Noodles | Mixtape Torrents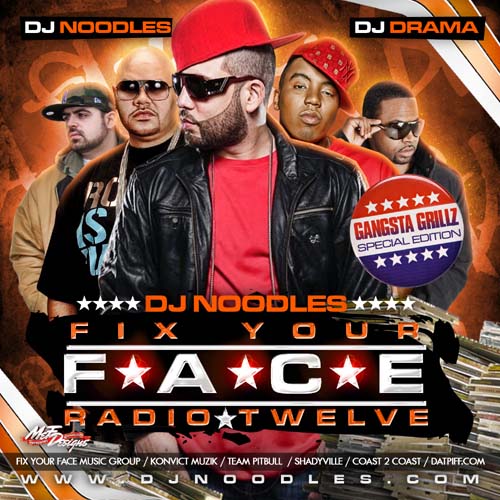 DJ Drama… Mr. Thanksgiving himself has teamed up with Mr. Fix Your Face, DJ Noodles to collab on the latest installment in the Fix Your Face Radio mixtape series, volume 12! Drama is gearing up for the release of his Gangsta Grillz Vol. 2 album on May 19th, and even though Fix Your Face Radio 11 dropped just a few days ago, Noodles has cooked up a whole stack of new heat, including the world premier of "Dope Ball", by Pitbull and Produced by DJ Noodles, two brand new Trazz exclusives, the crazy new joint "Stand Up" from DJ Noodles featuring two of the newest members of the Cash Money family, 2 Pistols and Glasses Malone along with One Block Radius. Also look out for new exclusives, (and these are REAL exclusives so DJ's pay attention), from Mims, Archie Eversole, Ludacris, and so much more. Barack O'Drama and DJ Noodles… FIX YOUR FACE AND PAY ATTENTION!!!
01. DJ Drama Intro
02. Hottest In Da Hood - Trazz
03. Dope Ball - Pitbull (Prod. DJ Noodles)
04. Stand Up - DJ Noodles ft. 2 Pistols, Glasses Malone and One Block Radius
05. Satisfied (Noodles Mix) - Ludacris
06. Guilt - Mims
07. Hey Joe - Fat Joe
08. Tear It Up - Archie Eversole
09. Willie The Kid Speaks
10. Well Respected - Willie The Kid & LA The Darkman
11. Go Get It (Soul Survivors 2009) - Akon & Biggie ft. Red Cafe
12. Get Off Me - Trazz (Prod. DJ Noodles)
13. Hustler's Anthem (Noodles Mix) - Busta Rhymes & T-Pain
14. Makin Money - Mims & Red Cafe
15. Just One Night - Emilio Rojas
16. Day Dreaming - DJ Drama ft. Akon, Snoop Dogg, T.I.
17. Takin It Back To '98 Interlude
18. On The Corner - Murphy Lee
19. Everybody Can't Do This - DJ Drama
20. Can't Stop (Noodles Mix) - Pitbull
21. Crack A Bottle - Jay Rock
22. Days Go By - Lil Fats ft. St. Laz, Mikey Bloodshot
23. Jumpin Out The Window (Noodles Mix) - Lil Wayne
24. Fix Your Face - DJ Drama
25. Do What You Do - Physha P
26. Lose Control - Rox ft. Fedarro
27. The Rim Shop - T-Bone
28. Real Nigga Roll Call - S. Fresh
How To DOWNLOAD