DJ Noodles Presents Emilio Rojas - Recession Proof
Submitted by djheat1200 on Fri, 03/06/2009 - 10:02am.
General | DJ Noodles | Mixtape Torrents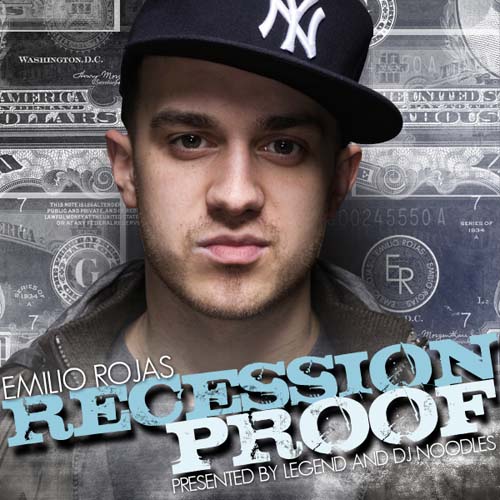 Emilio Rojas drops his highly anticipated new mixtape "Recession Proof," presented by DJ Noodles and Legend. After dropping a slew of singles, popping up on radio shows, a steady stream of live performances, and MTV video play, Emilio follows up with his first official mixtape, featuring appearances by Stat Quo, Fashawn, Donny Goines and more, while DJ Noodles, Illmind, M-Phazes, Khrysis and others check in on the production tip.
01. Intro (Prod. M-Phazes)
02. Keys To The City (Prod. Midnite)
03. On The Ave [ft. Fashawn] (Prod. M-Phazes)
04. Just One Night (Prod. Deheb)
05. Young, Fresh, & Fly (Prod. Illmind)
06. Here I Am [ft. Mela Machinko] (Prod. Khrysis)
07. Let IT Out (Prod. Timbaland)
08. Don't Go [ft. Mela Machinko] (Prod. DJ Noodles)
09. 585 Remix [ft. Hassan Mackey, Black Sinatra, L.I., Nikal Fieldz] (Prod. M-Phazes)
10. Murder [ft. Donny Goines, Mela Machinko] (Prod. Illmind)
11. 10 Player Commandments (Prod. Reality)
12. Way She Moves [ft. Stat Quo, Marvin Priest] (Prod. M-Phazes)
13. Free (Prod. Zaire)
How To DOWNLOAD