DJ Noodles - Back On My B.S. (Fix Your Face Radio Vol 8)
Submitted by djheat1200 on Wed, 12/03/2008 - 9:19am.
General | DJ Noodles | Mixtape Torrents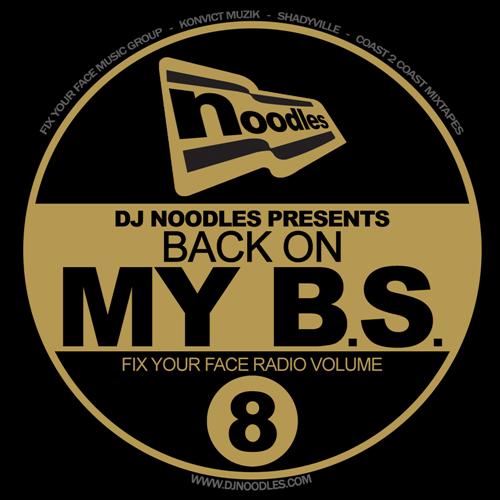 The Fix Your Face Radio mixtape series continues on, this time with DJ Noodles unleashing a straight up masterpiece, "Back On My B.S." Getting back to his roots, DJ Noodles hit the lab to put together THE remix project of 2008, with every track on the mixtape either remixed or produced by DJ Noodles! The tape starts off with the return of Eminem on "pRelapse", then it's collabo central: as Noodles creates tracks with Young Jeezy along side Red Cafe, Maino with Glasses Malone, and a surprise appearence by The Young Gunz! With so much more in store, including appearences from DJ Noodles Konvict Muzik fam Akon and Kardinal Offishall, and of course Fix Your Face's own TRAZZ, if you are a TRUE mixtape fan, then you NEED this mixtape. DJ Noodles is Back… on is B.S!
01. pRelapse (Noodles Mix) - Eminem
02. Set It Off (Noodles Mix) - Kardinal Offishall / Swizz Beats
03. I Get Money (Noodles Mix) - Young Jeezy / Red Cafe
04. Get Up (Noodles Remix) - 50 Cent (Prod. DJ Noodles)
05. In The Ghetto - Young Gunz
06. Show Em (Noodles Mix) - Young Jeezy / Slim Thug
07. My Life (Noodles Mix) - Lil Wayne / Rihanna
08. Represent The Team - Murphy Lee / Trazz
09. My Dream (Noodles Mix) - Akon / Biggie / Kanye West
10. Hustle Hard (Noodles Mix) - Maino / Glasses Malone
11. Addicted To Fresh (Noodles Mix) - Jay-Z
12. The Bad Guy (Noodles Mix) - Busta Rhymes
13. Dr. Freezer (Noodles Mix) - Freeway
14. The Real Hip Hop (Noodles Mix) - Kanye West / Jadakiss / Jay-Z
15. Hustler Story - Akon / Red Cafe / Glasses Malone (Prod. DJ Noodles)
16. Go Hard (Noodles Mix) - Ludacris / T-Pain
Bonus: Mrs. Officer (Noodles Remix) - Lil Wayne / Pitbull / Trazz / Bobby V (Prod. DJ Noodles)
How To DOWNLOAD