DJ Noodles - Paper Planes (Fix Your Face Radio Vol 4)
Submitted by djheat1200 on Wed, 08/20/2008 - 10:28am.
General | DJ Noodles | Mixtape Torrents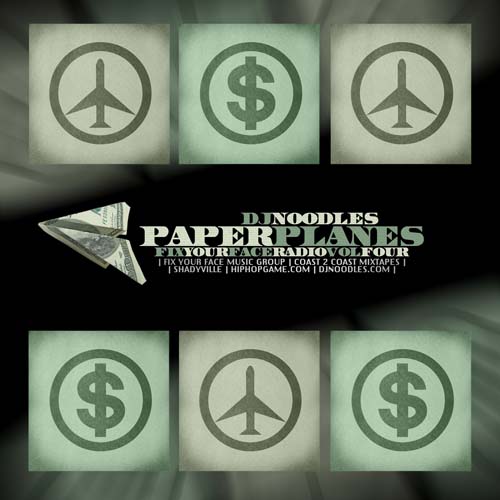 DJ Noodles is back continuing to kill the summer with release after release, this time we bring you Volume 4 of the Fix Your Face Radio series, "Paper Planes." Brand new music from Jay-Z, G-Unit, M.O.P., Ludacris, T.I., Rick Ross, and the DJ Noodles Remix of the worldwide money anthem "Paper Planes," featuring Trazz, Jim Jones, Freeway & Young Chris! Also peep the mixtape premier of the new single from TRAZZ, "Watch For The Haterz," featuring PITBULL and produced by DJ Noodles himself!
01. Fix Your Face Radio Intro
02. Paper Planes (Noodles Mix) - Trazz, Jim Jones, Freeway, Young Chris
03. Dope Boy Fresh - Jay-Z
04. Go Hard - Vic D ft. Rick Ross
05. Watch For The Haterz - Trazz ft. Pitbull (Prod. DJ Noodles)
06. Wish You Would - Ludacris & T.I.
07. Bumpin My New Shit - Freeway
08. Freestyle - Murphy Lee
09. Face Off - Tony Yayo
10. It's My Time - Lloyd Banks
11. Alarm Blaze - Styles P
12. I am That - Mikey Vegaz
13. I'ma Kill Ya - M.O.P.
14. Summertime - Jay Rock
15. Freestyle - Young Chris & Omillio Sparks
16. Money In My Pocket - T. Soprano ft. Mistah Fab, Smigg Dirtee, Jim Cole
17. Crazy World - Freeway
18. Taking Over - Mista Raja ft. KRS-One
19. Say Goodnight - Reks
20. Questions - 7.3.2 Jay Rock aka Porecelain Prince and Bono The Kid
How To DOWNLOAD