DJ Rukiz - Beanie Sigel: The Truth Is Back
Submitted by mfizzel on Fri, 09/15/2006 - 4:15pm.
East Coast | DJ Rukiz | Mixtape Torrents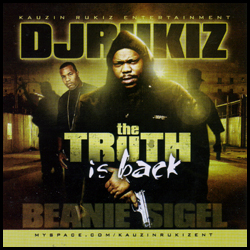 The Truth Is Back and so is our man DJ Rukiz, known around these
parts for doing just about everything. From R&B to blends to serious
artist compilations, Rukiz makes it happen.
This banger right here is another mega-mix, this time 60 tracks and
this time focused on the Roc-A-Fella bully Beanie Sigel. Spanning B.
Sig's musical career, this mixtape breezes through his hardest
freestyles, cameos, 16's and anthems.
Mixed up from front to back, Rukiz takes you on a ride with the
Broad Street Bully aka. Beanie Mack for 60 tracks total.

1 - DJ Rukiz
2 - Get That Doe
3 - Mack Bitch
4 - Kiss Your Ass Goodbye
5 - Roc Tha Mic
6 - One Shot Deal
7 - Dance With Me
8 - Ya'll See Freestyle
9 - Power 99 Beef w/ Gillie Da Kid
10 - Kiss Of Death
11 - I Don't Do Much
12 - Money, Cash, Hoes
13 - Guess Who's Back
14 - Oh Daddy
15 - The Champions
16 - One For Peedie
17 - What A Thug About
18 - Freestyle
19 - This Can't Be Life
20 - The Roc
21 - Just Fire
22 - Still Got Love
23 - Stick To The Script
24 - Streets Iz Talkin
25 - The Truth
26 - Feel It In The Air
27 - Badman
28 - Mac Man
29 - Greenlight
30 - Purple Rain
31 - Where I'm From
32 - 1000 Bars Freestyle
33 - Resevoir Dogs
34 - Philly Philly
35 - Suckas
36 - Flatline
37 - Oh No Freestyle
38 - What We Do
39 - You Me Him Her
40 - Throw Ya Hands Up
41 - Extended Verse
42 - Raw & Uncut
43 - When You Hear That
44 - Get Down
45 - Change The Game
46 - For My Niggaz
47 - In Philly Speedin
48 - Die Before I Wake
49 - Wanted
50 - Power House
51 - In The Club
52 - Where Have You Been
53 - Bread & Butter
54 - Can't Get Out The Game
55 - Comin 4 You
56 - Killin That
57 - Why Wouldn't I
58 - Problemz
59 - 2 Glock 9's
60 - Die
How To DOWNLOAD