DJ Rukiz - Juelz Santana: Don't Watch Me, Watch TV
Submitted by mfizzel on Thu, 02/02/2006 - 7:33pm.
Mixtape Directory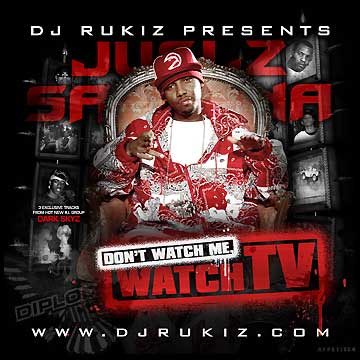 DJ Rukiz takes his turn spotlighting Juelz Santana as he drops his
major label sophomore release What The Game's Been Missing. With
45 tracks, freestyles, verses, anthems, remixes and cameos from
The Diplomats youngest in charge, this mixtape finds just about
every S.A.N.T.A.N.A. joint from Day One until yesterday... AYE!

1 - Rukiz Intro
2 - Oh Boy [verse]
3 - Juelz Speakz
4 - Sraight Drop
5 - Not My Homie
6 - Murder, Murder
7 - I'm Ready
8 - Get Crunk Musizik
9 - S.A.N.T.A.N.A. (Rukmix)
10 - Crown Me
11 - Get Down Wit The Dipset
12 - Honey Dip
13 - Going Down
14 - Best Of Both Hoods
15 - Santanas Town
16 - Make It Work
17 - Bubble Music
18 - Creepin Through Ya Hood
19 - What's It Gonna Be
20 - Hey Ma
21 - Streets On Fire
22 - My Love
23 - Cop Iz Comin
24 - Let The Gunz Go
25 - Kill Yourself
26 - Hi My Name Is
27 - Shottas
28 - Feel It In The Air
29 - 45th & Broadway
30 - Rich Girl
31 - Oh Yes
32 - Problems
33 - On Fire
34 - Dipset Anthem
35 - More Gangsta Music
36 - Can I Live
37 - Mic Check
38 - Mic Check Rmx
39 - Wait Till U See My Clip
40 - Push It
41 - There It Go
42 - Jump
43 - Biggie Joint
44 - Be Your Girl
45 - On The Grind
How To DOWNLOAD