DJ Rukiz - Hell Rell: Hell On Earth
Submitted by mfizzel on Sat, 04/08/2006 - 7:17am.
Mixtape Directory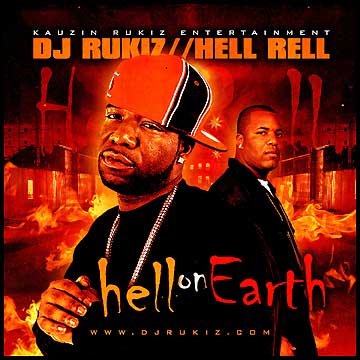 DJ Rukiz gives you damn near any Hell Rell track and freestyle you
could ever want on this 49-track mixtape profiling the next up out of the
almighty Diplomats camp. Taking the Dipset Movement a step deeper,
"Ruger Rell" is on his game as he readies his Koch debut 4 Da Hell Of It
+ his acting debut in the upcoming Killa Season. Don't fool wit da Dips.

1 - DJ Rukiz
2 - Hell Is Home (Rukmix)
3 - Back Is The Building
4 - Uhh Ahh
5 - Whatever Yuo Wanna Call It
6 - Line Of Fire
7 - Prison Freestyle
8 - Keep It Gangsta Freestyle
9 - Live By The Gun Freestyle
10 - Done Started Somthin Freestyle
11 - Diplomat Extraveganza
12 - Peniteniary Chances
13 - Family Ties (Rukmix)
14 - Get'Em Daddy
15 - Crime Pays
16 - Fuck You Freestye
17 - Pop Off
18 - Salute
19 - You Aint Neva
20 - No War
21 - Spray & Pop You
22 - Shots Fired
23 - All I Know
24 - Freestyle
25 - The Pit
26 - Radio Freestyle
27 - This Is What I Do
28 - Neva Got
29 - Freestle
30 - Candyland
31 - Rukiz Info
32 - Grand Finally (Rukmix)
33 - Bout That
34 - Block Huggaz
35 - Thoro
36 - Cake Up
37 - Deep Shit
38 - What U Lookin At
39 - We The Them The Same
40 - The Right Way 2 Go In
41 - Die Muthafuka
42 - Reptile
43 - Gunz Come Out Freestyle
44 - Monster
45 - Dreams
46 - Fresh
47 - Back You Up
48 - In My Hood
49 - DJ Rukiz Outro
How To DOWNLOAD