DJ Whoo Kid - POW! Radio Vol. 1
Submitted by mfizzel on Fri, 05/05/2006 - 7:31am.
General | DJ Whoo Kid | Mixtape Torrents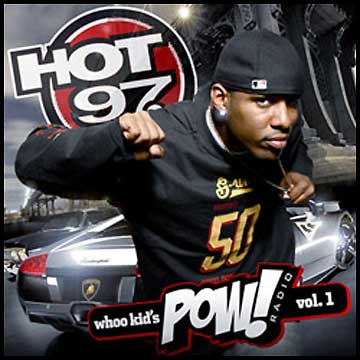 DJ Whoo Kid gives himself a mixtape pat on the back with this recent
hip-hop banger celebrating his new Hot 97 radio show POW! With a big
mixtape featuring a splash of tracks from NYC to the South, this joint
bangs out to new Lloyd Banks & 50 Cent, T.I., Jay-Z, Kanye West, Lil'
Jon & Scrappy, Prodigy & Sam Scarfo, Papoose, Trae & Pimp C, Peedi
Crakk, Jae Millz, Scrappy/Lil' Jon, Paul Wall, Three-6, Freeway & more.

1 - DJ Whoo Kid & Shady Intro
2 - Lloyd Banks feat. 50 Cent – Cake
3 - T.I. – Hand In The Air
4 - Prodigy & Sam Scarfo – Buck Somethin
5 - Jay-Z Freestyle
6 - Trae feat. Pimp C – Swang
7 - Lloyd Banks – 70 Bars
8 - Chamillionaire feat. Bun B & Pimp C – Ridin Dirty (remix)
9 - Mobb Deep feat. Lloyd Banks – Hold Somethin'
10 - Young Buck & Lil Scrappy – Money in the Bank
11 - Prodigy feat. NYCE – Borling
12 - Trae feat. 36 Mafia & Paul Wall – Cadillac
13 - Jay-Z & DMX Interlude
14 - Prodigy – P Purple n Pill
15 - Jay-Z – Talent Search
16 - Peedie Crack – Bury Niggas
17 - Jae Millz – Feel Like That
18 - Lil Scrappy feat. Lil Jon – Gangsta Gangsta
19 - Papoose feat. Riz – Throw Yo Guns in the Air
20 - Freeway Freestyle
21 - Tyestix feat. Arson Ent. – Freestyle
22 - Mobb Deep – Give It To Me
23 - Kanye West – Murda She Wrote
24 - John Doe feat. Brandy & Timbaland – Sirens
25 - Avant & Lloyd Banks Xclusive
26 - Mobb Deep feat. Mary J. Blidge – It's Alright
How To DOWNLOAD