Mick Boogie - Lil Wayne: The W. Carter Collection
Submitted by mfizzel on Fri, 02/24/2006 - 10:31am.
Mixtape Directory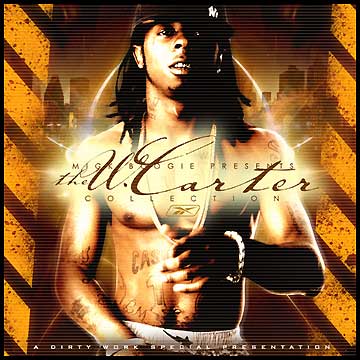 Mick Boogie has taken his mixtape skills to the Dirty South in the past
(see: Dirty Work 1 - 2 - 3 - 4). But this one may be the hottest yet, as he
teams up with Lil' Wayne to help kick off the Cash Money millionaire's
new Reebok shoe line. This mixtape tribute to Weezy F. Baby features a
rare batch of unreleased and rare street cuts, live joints, remixes/blends.

1 - Intro
2 - Mr. Carter
3 - When You See Me
4 - Cannon (Mick Boogie mix) feat. T.I. & Busta:
5 - Cash Money
6 - Gangsta
7 - Suck It or Not feat. Cam'ron
8 - Lil' Wayne Speaks About Competition
9 - Holla At Me feat. Paul Wall & DJ Khaled
10 - Miami
11 - Ain't Got Time
12 - Lil' Wayne Speaks About Shooters
13 - Shooters (LIVE) feat. Robin Thicke
14 - Boom Bap
15 - More Fire
16 - Kryptonite Part 2 feat. Killer Mike
17 - Grey Goose (Mick Boogie mix) feat. Young Jeezy
18 - Make It Work For Ya feat. Juelz & Young Jeezy
19 - I'm Wit Whateva feat. Juelz & Notorious B.I.G.
20 - Lil' Wayne Speaks About His Album
21 - In The Streets
22 - Ridin With A Body
23 - Do What You Do
24 - Oh No
25 - Lil' Wayne Speaks About The Future
26 - Someone Like Me
27 - Hood Rich
How To DOWNLOAD