Mick Boogie - Nas & Jay-Z: God's Gift LIVE
Submitted by mfizzel on Wed, 02/08/2006 - 6:58am.
Mixtape Directory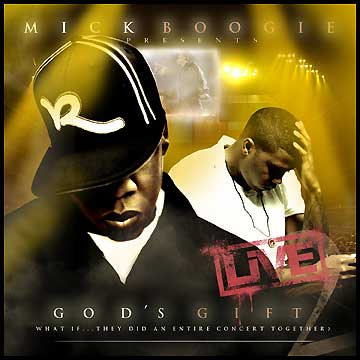 Mick Boogie takes the Jay-Z and Nas reunion one step further on this
special concert mixtape as he shows you what it'd be like if these two
rap super-heavyweights went toe to toe for an entire concert. Acquiring
classic concert audio from Jigga & Esco's past shows, this Boogie mix
reconstructs an entire Jay-Z and Nas concert — strictly for the fans...

1 - Intro
2 - Jay-Z - Izzo
3 - Jay-Z - Jigga
4 - Nas - Hate Me Now
5 - Jay-Z - PSA
6 - Jay-Z - You Don't Know
7 - Nas - Stillmatic Interlude
8 - Nas - Nas Is Like
9 - Nas - Life's A Bitch
10 - Jay-Z - Can I Get A?
11 - Jay-Z - You Me Him Her
12 - Jay-Z - Do My
13 - Nas - Street Dreams Interlude
14 - Nas - If I Ruled The World
15 - Jay-Z - Hovi Baby Freestyle
16 - Nas - Nastradamus
17 - Nas - Got Yourself A Gun
18 - Jay-Z - 99 Problems
19 - Nas - Smokin'
20 - Nas - Oochie Wallie
21 - Jay-Z - Beware (Punjabi MC)
22 - Nas - You're The Man
23 - Jay-Z - Hard Knock Life
24 - Jay-Z - Missing You Medley
25 - Nas - Thugz Mansion
26 - Nas - The Cross
27 - Jay-Z - Dirt Off Your Shoulder
28 - Jay-Z - Outro
How To DOWNLOAD