DJ Noodles Presents Akon & Biggie - Soul Survivors
Submitted by djheat1200 on Mon, 03/09/2009 - 8:13am.
Remixes | DJ Noodles | Mixtape Torrents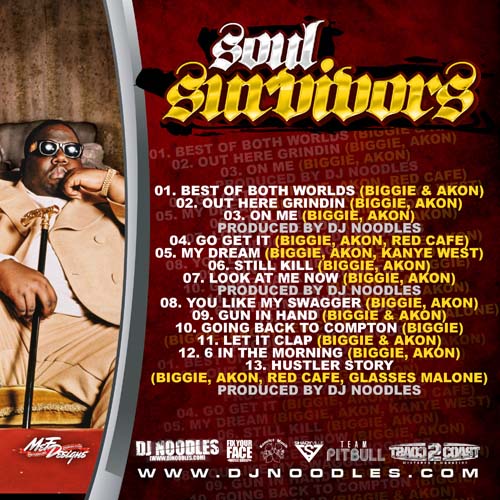 For the past 5 years, DJ Noodles has helped celebrate the anniversary of the passing of the legendary Notorious BIG with a major project every year on March 9th, the day the greatest rapper of all time passed on. 2009 is no different. Now that Akon has brought DJ Noodles into the fold as the official Konvict Muzik DJ, it was only right that Noodles revisited one of the dopest mixtape remix projects ever released, 2007's "Soul Survivors", an incredible production of "duets" from Akon and the late Notorious BIG. With "Soul Survivors 2009," Noodles reaches back to the original Soul Survivors projects and remasters and reworks some of the best tracks from that project, and unleashes 9 brand new joints, with the entire mixtape either Produced by or Remixed by DJ Noodles. Guest appearences from Red Cafe, Kanye West and Glasses Malone pop up on the project, as DJ Noodles drops another classic Re-Mixtape. If all that hype wasnt enough, this is also release #9 from the largest mixtape promotion in history, Coast 2 Coast Mixtapes' "March Mixtape Madness," where they are releasing a new mixtape every single day in March, 2009. Fix Your Face and Pay Attention: the Akon & Biggie ALBUM is HERE!
01. Best Of Both Worlds (Biggie & Akon)
02. Out Here Grindin (Biggie, Akon)
03. On Me (Biggie, Akon) Produced by DJ Noodles
04. Go Get It (Biggie, Akon, Red Cafe)
05. My Dream (Biggie, Akon, Kanye West)
06. Still Kill (Biggie, Akon)
07. Look At Me Now (Biggie, Akon) Produced by DJ Noodles
08. You Like My Swagger (Biggie, Akon)
09. Gun In Hand (Biggie & Akon)
10. Going Back To Compton (Biggie)
11. Let It Clap (Biggie & Akon)
12. 6 In The Morning (Biggie, Akon)
13. Hustler Story (Biggie, Akon, Red Cafe, Glasses Malone) Produced by DJ Noodles
How To DOWNLOAD