DJ Noodles - Fix Your Face Radio 10
Submitted by djheat1200 on Mon, 02/23/2009 - 12:21pm.
General | DJ Noodles | Mixtape Torrents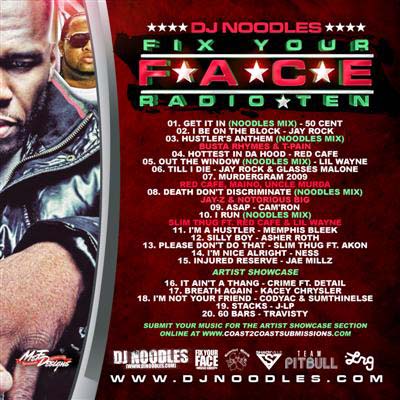 Noodles is back at it, kicking off the first of a whole bunch of new releases coming to you over the course of the next month, with Fix Your Face Radio vol. 10! A bunch of brand new DJ Noodles remixes, tons of exclusives, everything you know and love about the Fix Your Face Radio series, as DJ Noodles moves it into double digits! Look out for the "I Get It In," "Out The Window," "Hustler's Anthem" and "I Run" Noodles Remixes on this one, along with brand new music from everyone including Jay Rock, Akon, Slim Thug, Red Cafe and more! Fix Your Face and Pay Attention!!!
01. Get It In (Noodles Mix) - 50 Cent
02. I Be On The Block - Jay Rock
03. Hustler's Anthem (Noodles Mix) - Busta Rhymes & T-Pain
04. Hottest In Da Hood - Red Cafe / Last Chance - 50 Cent
05. Out The Window (Noodles Mix) - Lil Wayne
06. Till I Die - Jay Rock & Glasses Malone
07. Murdergram 2009 - Red Cafe, Maino, Uncle Murda
08. Death Don't Discriminate (Noodles Mix) - Jay-Z & Notorious BIG
09. ASAP - Cam'Ron
10. I Run (Noodles Mix) - Slim Thug ft. Red Cafe & Lil Wayne
11. I'm A Hustler - Memphis Bleek
12. Silly Boy - Asher Roth
13. Please Don't do That - Slim Thug ft. Akon
14. I'm Nice Alright - Ness
15. Injured Reserve - Jae Millz
ARTIST SHOWCASE
16. It Ain't A Thang - Crime ft. Detail
17. Breath Again - Kacey Chrysler
18. I'm Not Your Friend - Codyac & SumthinElse
19. Stacks - J-LP
20. 60 Bars - Travisty
How To DOWNLOAD