DJ Noodles Presents Smitty - Last Man Standing
Submitted by djheat1200 on Wed, 04/15/2009 - 1:48pm.
Dirty South | DJ Noodles | Mixtape Torrents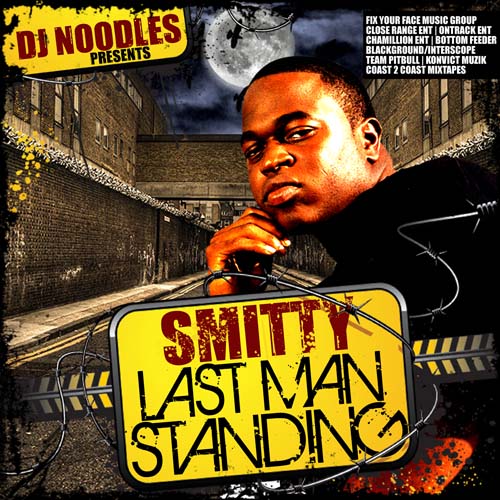 DJ Noodles connects with Smitty to deliver the new mixtape "Last Man Standing." Featuring the brand new DJ Noodles produced "Flip The Work," and guest appearences from Akon, Slim Thug and more, it's ride-out music to the fullest. Fix Your Face & Pay Attention, and enjoy another "album" brought to you by Fix Your Face Music Group, Bottom Feeder Music, Blackground/Interscope, Close Range ENT, On Track ENT, Chamillion ENT, and Coast 2 Coast Mixtapes!
01. One Hundred
02. Throw Away Cash [Ft. J Walt]
03. Flip The Work [Prod. Dj Noodles]
04. Re-Up
05. Bustin Serves
06. Right Around The Corner [Ft. Slim Thug]
07. Boogieman [Ft. Close Range]
08. Kool G Rap Freestyle
09. Let The Drama Slide [Ft. Max B, Killa Kyleon]
10. Boss Life [Ft. Akon, Close Range]
11. Been Around The World
12. 100 Bars
How To DOWNLOAD