DJ Noodles - Fix Your Face Radio 13
Submitted by djheat1200 on Thu, 05/14/2009 - 9:12am.
General | DJ Noodles | Mixtape Torrents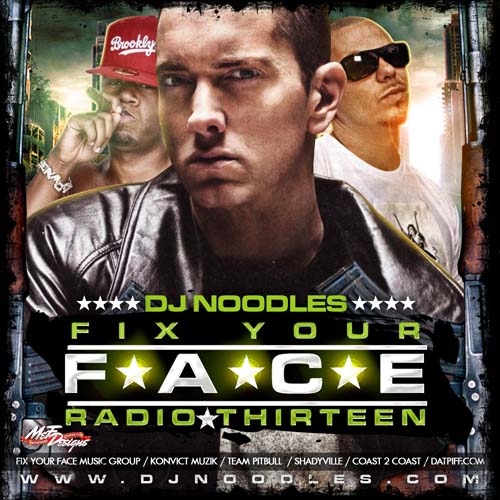 The Movement Continues! DJ Noodles hits you off with vol 13 of the Fix Your Face Radio mixtape series, with brand new exclusives and remixes lined up, featured artists include Pitbull, Red Cafe, Styles P & Sheek Louch, Jay Rock, and more! Just something to tide you over before the two big releases on deck from DJ Noodles, "Gutta Muzik" from Noodles, Kay Slay and Jay Rock, dropping 5/18, and the upcoming follow up to "Free Agent" from DJ Noodles, Pitbull and DJ Buddha, dropping Memorial Day Weekend! It's Fix Your Face!
01. Can't U Tell (Remix) - DJ Noodles ft. Trazz, Pitbull, Red Cafe, Jay Rock
02. Always Strapped (Remix) - Eminem ft. Lil Wayne*
03. Conglomerate - Pitbull
Pitbull / DJ Noodles / DJ Buddha New Mixtape Memorial Wknd!
04. Hi - Eminem
05. How To Rob 2009 - Jay Rock
Jay Rock / Kay Slay / DJ Noodles "Gudda Muzik" Dropping 05.18.09!
06. PRElapse - Eminem
07. Flip The Work - DJ Noodles ft. Smitty
08. Can't Tell Me Shit - Pitbull*
09. Pockets So Heavy - Hunt ft. Gucci Mane
10. Make The Trap - Jay Rock
11. We Like Guns - Sheek Lough
12. Shorty Love My Swag - Tone Trump, Illaj, Lil Fats & Mikey Bloodshot
13. Renegade - Styles P
14. Lights Low - Red Cafe
15. Hottest In The Hood (Remix) - Red Cafe, Diddy, OJ, Jadakiss, Rick Ross
ARTIST SHOWCASE
16. Pans In The Kitchen - Hopsin
17. Dangerous - Rox
18. I Don't Freestyle - J-LP
19. Ain't I Freestyle - Travisty
How To DOWNLOAD