DJ Noodles - Fix Your Face Radio Vol. 17
Submitted by djheat1200 on Thu, 02/04/2010 - 10:39am.
General | DJ Noodles | Mixtape Torrents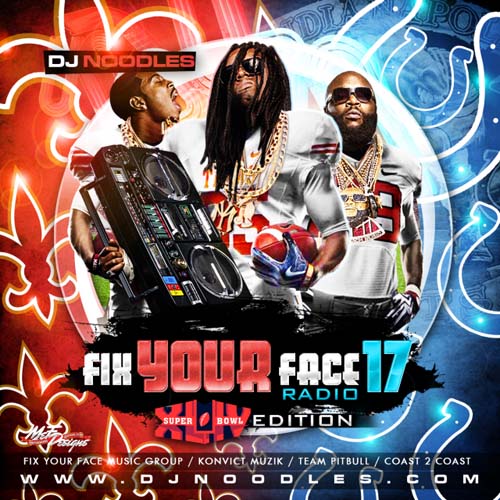 The Fix Your Face Radio Mixtape series continues as DJ Noodles hits you off with Volume 17, a Super Bowl Special Edition for 2010! Noodles hit the lab and cooked up 6 new remixes, and is hitting you with brand new music from everyone from Ludacris and Drake to Cassidy and Ron Browz! And since its Super Bowl week, we had to do it big for Miami with new Pitbull, Rick Ross and DJ Khaled blasting off on Fix Your Face Radio 17. Don't forget you can catch Fix Your Face Radio with DJ Noodles ON the radio every week, 3-5PM on Tampa's Wild 94.1 and 10PM-MID Eastern Time on Sirius/XM's Hip Hop Nation!
01. Fix Your Face Radio Intro
02. Exibit B.I.G. (Noodles Mix) - Biggie
03. Say Somethin (Noodles Mix) - Drake
04. Angels (Remix) - Diddy ft. Rick Ross
05. Creepin (Noodles Mix) - Pitbull
06. Witness (Noodles Mix) - Drake
07. Bedrock (Noodles Mix) - Lil Wayne, Drake, Lloyd
08. So Arrogant - 2 Pistols
09. All I Do Is Win - DJ Khaled ft. Ludacris, Rick Ross, Snoop Dogg, T-Pain
10. Turn This Up - Trazz
11. All The Way Turnt Up - Ludacris
12. How Low (Remix) - Ludacris ft. Rick Ross, Twista
13. I Wanna Rock - Ace Hood
14. Hard - Trey Songz
15. Henny & Bacardi - Cassidy ft. Swizz Beats
16. Say Ahh (Noodles Mix) - Trey Songz
17. Glock Busta - Papoose
18. Cheese & Crackers - Ron Browz
19. Buddies - Fella ft. Plies
20. Mafia Music 2 - Rick Ross ft. Chrisette Michelle
21. This Is My Club - Prophit ft. Sumthin Xtra
22. Champion - Toby TNT1
How To DOWNLOAD