DJ Noodles & DJ Heat - Fix Your Face Radio (TRAZZ Special Edition)
Submitted by djheat1200 on Fri, 03/12/2010 - 12:00pm.
Dirty South | DJ Noodles | Mixtape Torrents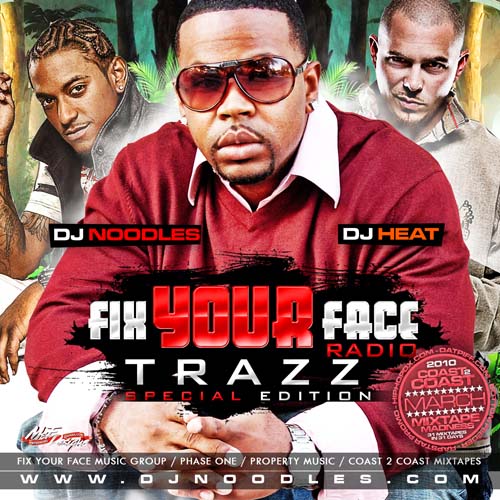 DJ Noodles continues his Fix Your Radio Mixtape mega-series with the eagerly awaited special edition featuring TRAZZ.
In the digital age, this newcomer has taken the industry by storm in the most unusal of ways: radio. His remixes and unreleased records have long been a mainstay of mixshows and club dj's and now he's teamed up with DJ Noodles and DJ Heat to liberate some of his monster collabs and debut his new single, "Internet Love" featuring none other than LLOYD. With features from Pitbull, Akon and Lloyd and production from the likes of Akon & DJ Noodles, this mixtape is a sure to introduce his music to those still in the dark.
Also along for the ride is the newest edition to the Fix Your Face Music Group roster, DJ HEAT. After DJ Noodles left his post at Buffalo's 93.7 WBLK in 2009, DJ Heat stepped in to take the city by storm.
Brought to you by Fix Your Face Music Group, Property Music and Phase One Communications, FIX YOUR FACE RADIO: TRAZZ SPECIAL EDITION is an exclusive release inside COAST 2 COAST MIXTAPES' monster promotion, MARCH MIXTAPE MADNESS!
01. It's A Shame
02. I Wanna Rock
03. Imma Be
04. Fire
05. Turn It Up
06. Internet Love (Featuring Lloyd)
07. Drunk In The Club (Featuring Bein Maejor)
08. Get By (Featuring Akon)
09. Ice Cream (Featuring Swizz Beats)
10. She's On Fire Remix (Featuring Pitbull & Colby O'Donis)
11. Sexy Bitch
12. All They Wanna Talk About
13. Feel Good
14. Fresh To Death
15. Rick Flair
16. Replay
17. Rock The Bed (Featuring Riz)
18. DJ Christion Freestyle
19. Get Off Me
20. My Life
How To DOWNLOAD