P Cutta - Street Wars 13.5
Submitted by mfizzel on Tue, 11/22/2005 - 8:17pm.
Mixtape Directory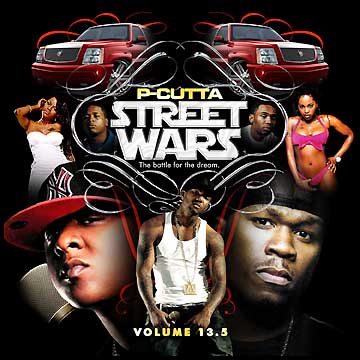 P-Cutta follows Volume 13 up with the quickness,
hitting you with part 13.5 of the world's #1 mixtape series
not involving that guy 50 Cent. Well...actually...doesn't damn near
95% of hip-hop's legitimate beefin' stem from Fitty? Oh well.
Hate it or love it, Street Wars is the #1 beef mixtape.
PERIOD.
1 - P-Cutta feat. Ryan Banks – StreetWars 13.5 Freestyle
2 - 50 Cent – Nobody Likes Me [original version - rare classic] (Dissin' Ja Rule, Nas, Mr. Cheeks)
3 - Beloved – Drop A Dime Records (skit) (Dissin' 50 Cent)
4 - Game Freestyle (Dissin' Memphis Bleek, Young Gunz & Tony Yayo)
5 - Memphis Bleek Freestyle (Dissin' Game)
6 - Tony Yayo Speaks vs. Game
7 - Game Speaks vs. Young Gunz
8 - Young Gunz feat. Peedi Crakk – GIFI Freestyle (Dissin' Game)
9 - Game Freestyle (Dissin' Whoo Kid)
10 - Debo Freestyle (SW 13.5)
11 - Young Chris – Been There, Done It (Dissin' Game)
12 - Young Chris Speaks vs Game
13 - Game feat. Cyssero – Help Em Out (Dissin' Young Gunz)
14 - Young Gunz Freestyle (Dissin' Game)
15 - Pooda Brown Freestyle (Dissin' Cyssero)
16 - Jo Jo Pellegrino – Beef
17 - Game Freestyle (Dissin' Benzino)
18 - Spyda Loc feat. Young Buck – I Don't Want No Problem (Dissin' Game)
19 - Joe Budden – I Run New Jerz (Dissin' Game & 50 Cent)
20 - Foxy Brown Speaks vs. Jacki-O
21 - Jacki-O – TKO (Dissin' Foxy Brown)
22 - Red Café – Rap Chic
23 - 50 Cent Speaks vs. Lil Kim
24 - Lil Kim – Shut Up Bitch (Dissin' 50 Cent & Wendy Williams)
25 - Styles P feat. Nas & Game – Living To Die (Dissin' 50 Cent)
26 - Jadakiss feat. Styles P – Fifty (Dissin' 50 Cent)
27 - Don Brody feat. Boss Cutty - Freestyle
28 - Lakey The Kid – Why (Dissin' Nas)
29 - Analisis Freestyle (Dissin' Busta Rhymes)
30 - Beloved feat. Scarface – G-Code (Dissin' 50 Cent)
31 - Gravy feat. P. Diddy – Hate Me Now (Dissin' Maino)
32 - Maino Speaks vs Gravy
How To DOWNLOAD