Illmind & Dub MD - Blaps, Rhymes & Life Vol 4
Submitted by mfizzel on Tue, 12/15/2009 - 10:53am.
General | Mixtape Torrents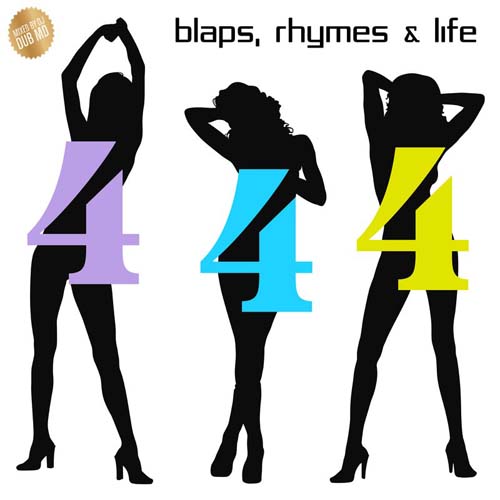 As the festive season grows closer and closer, Illmind and Dub MD are back with
an early Christmas present for everyone following the movement, with the fourth
installment of the "Blaps, Rhymes & Life" compilation series. This edition is a
little special, and the first of its kind, comprising of 2 Discs with double the
dose of classic !llmind production. Volume 4 showcases the usual mixture of
mainstream/upcoming artists: KRS-One, Keith Murray, Erykah Badu, Big Pooh,
Skyzoo, Jared Evan, Reef The Lost Cauze, D-Black, Thoth and many more.
As always Illmind, aka the hardest working producer in the game, continues
showcasing his versatility as he works on multiple studio albums with Fortilive,
D-Black and Jared Evan, as well as some major artists (we'll keep that quiet for
now) and his new producer showcases "B.L.A.P." stay tuned to www.illmind.biz for
daily dose of everything !llmeezy including upcoming showcases.
Make sure you check out the behind the scenes footage from the Blaps, Rhymes &
Life Vol. 4 lifestyle party, courtesy of Rik Cordero and Three/21 Media right
here and in-depth iStandard interview here, where he gives advice to up coming
producers. Also check out the event re-cap over at The Smoking Section website,
as they give you the run-down right here.
In addition to all that lookout for Dub MD as he prepares to release his first
official EP project entitled "The Requiem EP" which features some of your
favorite emcees and producers, due out sometime in 2010 via Universal Indie,
aswell as various other projects. stay tuned.
Disc 1: Blaps, Rhymes & Life
01.) Thoth - Get Your Game Right (Produced By Illmind)
02.) Clap Cognac - I'm Gonna Do It (Produced By Illmind)
03.) Fortilive (!llmind, Mushmouf & Slo-Mo) - Gimme (Produced By Illmind)
04.) Mistah F.A.B. - Follow Me (Produced By Illmind)
05.) Brooklyn Academy - Hide (feat. Fresh Jones & Keith Murray) (Produced By
Illmind)
06.) Seer - Ill Mind (Produced By Illmind)
07.) KNGDM - Gazillion (Produced By Illmind)
08.) KRS-One & Buckshot - Survival Skills (feat. DJ Revolution) (Produced By
Illmind)
09.) Contra - Fall Back (Produced By Illmind)
10.) Skyzoo - Say What You Say (feat. Rapper Big Pooh & Naledge) (Produced By
Illmind)
11.) Verbal Kent - Examples (feat. Lance Ambu) (Produced By Illmind)
12.) Truck North - Hot! (Produced By Illmind)
13.) BURNTmd - Let's Get ILL (feat. Reef The Lost Cauze, Copywrite, Phil Da
Agony & Reks) (Produced By Illmind)
14.) Naps N Dreds - Call It Quits (feat. Thirstin Howl III) (Produced By
Illmind)
15.) Roscoe Umali - Blow Your Mind (Produced By Illmind)
Disc 2: Blaps, Soul & Life
01.) D-Black - No Ordinary Love (Produced By Illmind)
02.) Gliffics - Call Me Crazy (feat. Chanj) (Produced By Illmind)
03.) Strange Fruit Project - Get Live (feat. Erykah Badu) (Produced By Illmind)
04.) Jared Evan - They Don't Know (Produced By Illmind)
05.) Eric Roberson - Remember When (Produced By Illmind)
06.) Daria Jones - Stay (Produced By Illmind)
07.) Rae - So Sexy (Produced By Illmind)
08.) Grynch - The Right Way (Produced By Illmind)
09.) 3D - If I Want To (Produced By Illmind)
10.) Naeem Oba - Julia (feat. BrikAbrak) (Produced By Illmind)
11.) Hydroponikz - The Blues (feat. Jay Legaspi) (Produced By Illmind)
12.) Sleek - We Rock The Mic (Produced By Illmind)
13.) Last Days Fam - What You Doin It For (Produced By Illmind)
14.) Naturel - We Don't Play (Produced By Illmind)
15.) Black Irish - Kick Rocks (Produced By Illmind)
How To DOWNLOAD