Illmind - Blaps, Rhymes & Life (Mixed By Dub MD)
Submitted by mfizzel on Mon, 09/22/2008 - 2:40pm.
General | Mixtape Torrents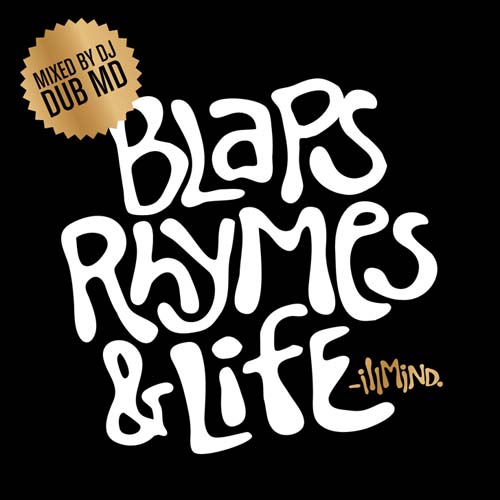 "Blaps, Rhymes & Life" is the exclusive new mixtape project from Dub MD and one of the most accomplished producers in Hip Hop Illmind. A producer that balances both the mainstream and underground successfully, working with a full spectrum of artists from Heltah Skeltah to 50 Cent, Little Brother to Black Eyed Peas, the list goes on. This new project features some of the artists Illmind has been working closely with over the past year or so including the likes of 50 Cent, LL Cool J, Heltah Skeltah, Skyzoo and many more.
Lookout for Illmind dropping his brand new studio album currently "Untitled" coming soon, along with his highly anticipated group album as "Fortilive" with Mushmouf and Slo-Mo and his exclusive collaboration project with North Carolina's Supastition and make sure you check out his new beat-tape "New Blap City" + limited edition T-shirt which is available right now, cop them @ http://www.illmind.biz.
Also keep your eyes out for Dub MD's exclusive new mixtape project for the purest called "Hip Hop Renatus" which features the whos-who of underground hip hop emcees (44 MC's / 34 Tracks) doin what they do best over the greatest hip hop producers of all-times instrumentals, out next month for exclusive free download!
(via http://www.illmind.biz/)
01.) Get Ya Ass Up! (Intro) (Produced By Illmind)
02.) Heltah Skeltah - Everything Is Heltah Skeltah (Produced By Illmind)
03.) Brooklyn Academy - Raise Ya Hands (feat. Jean Grae) (Produced By Illmind)
04.) Fresh Daily - Get Over (Produced By Illmind)
05.) D. Black - The Come Up (feat. Skyzoo) (Produced By Illmind)
06.) 50 Cent - Make A Movie (Produced By Illmind)
07.) Supastition - Thankful (feat. Kil Ripkin) (Produced By Illmind)
08.) Naturel - The Bullets (Produced By Illmind)
09.) K.O. (K-Otix) - 48 Seasons (Produced By Illmind)
10.) Torae - New Blood (feat. Skyzoo, Emilio Rojas & Fresh Daily) (Produced By Illmind)
11.) Fortilive - The Come Up (Produced By Illmind)
12.) Broken English - Different World (Produced By Illmind)
13.) Skyzoo - Lyrically Inclined (feat. Wale) (Produced By Illmind)
14.) Naps N Dreds - Do What I Should (feat. Copywrite) (Produced By Illmind)
15.) Quan - Geez Like Deez (feat. Rapper Big Pooh) (Produced By Illmind)
16.) Naturel - Resurrect (Produced By Illmind)
17.) 8th W1 - A Fool's Lullaby (Produced By Illmind)
18.) Faro-Z - Clap Ya Hands (Produced By Illmind)
19.) A.P.E.X. - One More Time (Produced By Illmind)
20.) LL Cool J - Queens (feat. Prodigy, 50 Cent, Kool G Rap, & Tony Yayo) (Produced By Illmind)
21.) Wannabe? (Outro) (Produced By Illmind
How To DOWNLOAD