The Come Up Pt. 13 (Rockstar Edition)(DVD)

Submitted by jaime on Fri, 03/09/2007 - 11:21am.
Mixtape Torrents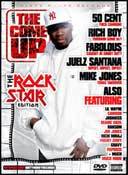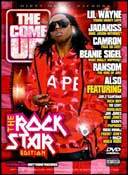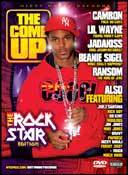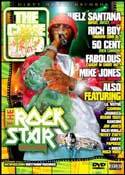 Download VLC Media Player (Free) to watch this DVD
"Nobody Is Fucking With Me"
In sitdown with MixUnit, street DVD kingpin slash producer of THE COME UP, Fendi, made it clear he didn't think anybody was messing with his hood-invading, rap superstar-hounding series. And particularly this edition. Packing it full with 150 minutes (2.5 HOURS!) of Come Up madness, Fendi tops both of his last two DVDs (combined!) with this savage, All-Star performance.
Lately, Fendi's been on his Hollywood shit, putting in work on his Warner Bros.-financed movie. But before he takes a step back from the DVD game to take it to the silver screen, Fendi hits the people with a DVD he thinks is the best DVD in the last two years. Featuring Juelz's response to Tru Life aka. "Blankman," 50 Cent beefing with Killa Cam and vice versa, Lil' Wayne putting it down on his 3rd straight COME UP, Fabolous' shootout caught on tape!!, Beanie Sigel talking about why he doesn't mess with Dame anymore, what's happening with Fab's case and much more. With his DVDs only getting better and better, catch what could be one of his final DVDs for a while. With Fendi giving MixUnit the full scoop behind his latest DVD, here's what to look for on this one:
-- Juelz rolls out with an estimated $2 million in precious metals (sorry Tru, none of that 10 carat shit...), two Rolls Royces and a Flying Spur and says 'enough is enough' with the Tru Life situation. Insisting to call Tru "Blankman," Human Crack In The Flesh sticks up for his 'Set and speaks on the rumors. Juelz also makes a cameo with Lil' Wayne later in the DVD.
-- Catching up with Killa Cam in Harlem on the day of his video shoot for 'Curtiis,' Fendi interviews the Pink Panther and asks about the beef with Fifty, where it started, and why Cam thinks 50 started the beef.
-- And seeing that The Come Up doesen't miss a beat, of course you can expect 50 Cent's personal response to Cam and real talk from the G-Unit general. Making his first appearance since THE COME UP #4, 50 explains how easy it would be to squash Cam. "Jimmy's the new boss..."
-- Jadakiss weighs in on the 50 Cent & Cam'ron incident himself, also talking about his man Styles getting into it on the phone with Fif live on Hot 97. Stopping down long enough to lay a freestyle and speak on a few things, Jada rapped with THE COME UP about his new album titled 'Kiss My Ass' and D-Block's serious grind for paper.
-- Lil' Wayne lands on the third COME UP DVD in a row, giving an all-new interview with Fendi, discussing everything from his upcoming 'The Carter III' (all the proceeds with go to Katrina victis) and his project with Juelz 'I Can't Feel My Face' (oh SHIT!), President Carter even speaks on the DJ Drama situation. Together with Juelz Santana, Weezy F. shoots the video for his "Black Republican" freestyle live from his mansion in the N.O.
-- B. Sigel aka. the Bully of Philadelphia stops in for a major feature with THE COME UP for what Fendi is calling his 1st official DVD magazine appearance. Giving you the best 10 minutes of an hour-long interview with the Broadstreet Bully, Sigel briefly speaks on where he stands with Dame, Jay and the R.O.C., before going into living locked locked up. Be sure he addresses State Property, too.
-- Fabolous checks in with THE COME UP and puts Fendi onto some exclusive footage from his most recent shootout. Catch Fabolous and his crew LIVE in the shootout, painting the town red with a barrage of gunfire. Splattering shots everywhere, Fab and Street Fam team come out with the win (and the loss).
-- Papoose marches through Brooklyn with 500 people at his back, as the lyrical Streetsweeper does just that with an army of his supporters (minus The Drama King...). His album is coming out soon, so Pap definitely has something to say.
-- Rich Boy puts it down in his hometown of Mobile, Alabama as he invites THE COME UP into town as he showcases more than 40 of the flyest whips (with D's on them bitches) at a car show in Alabama. Giving a 10-minute interview to Fendi and THE COME UP, Rich Boy also shoots an exclusive 2nd music video version of his hit "Throw Some D's," shooting the hood video to the remix lyrics.
-- Jim Jones responds to all the swirling hysteria regarding Tru Life and shoots an exclusive video for THE COME UP to his track "So Emotional," hooking up with Juelz in the streets of NYC to give Fendi this exclusive. Jimmy even throws a couple of subliminals Hovie's way just for fun.
ALSO FEATURING: Both Cam'ron and 50 Cent's homemade diss videos to each other, Mike Jones coming out the jewelry store with $600k of matching ice and gold, and an exclusive shout out from New Jersey's finest, Ransom.
How To DOWNLOAD