Dirty Harry - Marshall Law
Submitted by mfizzel on Sat, 07/29/2006 - 9:04pm.
Classic / Old | Dirty Harry | Mixtape Torrents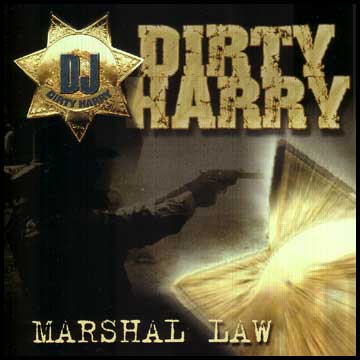 This definitive mixtape has several of Dirty Harry's most popular blends
with crazy blends featuring Notorious B.I.G. & 50 Cent. PLUS blends &
exclusive remixes from Nas, Dr. Dre, , Redman, Fabolous, DMX, Tupac,
Erick Sermon & Keith Murray, Memphis Bleek, Sade, J. Lo...

1 - Marshall Law Intro
2 - Notorious B.I.G. - Party & Bullshit 2003
3 - Juiciest b/w Blueprint 2 beats
4 - 50 Cent - In Da Club (remix verse)
5 - 50 Cent feat. Dr. Dre & Knoc-turn'al - In Da Club (Harry remix)
6 - Marial Law Interlude
7 - Rap Figures I "We Are Da Fire"
8 - Raphael Saadiq - Just A Friend b/w Peedi Crakk
9 - Nas- Warrior (blend)
10 - Sade - Warrior (blend)
11 - DMX - X Gonna Give It To Ya (Harry remix)
12 - Keith Murray feat. Redman & Erick Sermon - Yeah Yeah
13 - Jennifer Lopez (blend)
14 - Kerry "Krucial" Brothers Freestyle
15 - Notorious B.I.G. - Places To Go (Harry mix)
16 - Skit
17 - (Summer Madness) verse
18 - Fabolous - Damn
19 - Rap Figures II (Oh My Goodness!)
20 - Keith Murray - Movie Star
21 - DeBarge (Mega-Blend)
22 - Marshall Law Side B Intro
23 - Nas b/w Tupac - Bomb First
24 - 50 Cent Freestyle (Classic 1998)
25 - Illz Freestyle
26 - Rap Figures III (Marshall Law)
27 - Nivea (blend)
28 - Memphis Bleek - PYT, part 2
How To DOWNLOAD