DJ Famous - The New R.O.C. / Def Jam vs. G-Unit Pt. 2
Submitted by mfizzel on Sun, 07/23/2006 - 3:57pm.
East Coast | DJ Famous | Mixtape Torrents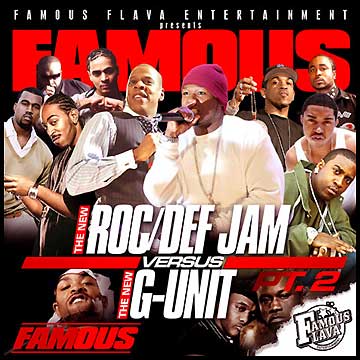 DJ Famous brings you the sequel (it's been a while...) to his
popular Roc-A-Fella vs. G-Unit and with these two hip-hop families
still on top of the Rap Universe, this mixtape is still where it's at.
Popping off with records from both camps, this mixtape brings you
inside the walls of the new Roc-A-Fella at Def Jam and the entire G-Unit camp.
This mixtape brings you new music from Ludacris, Method Man, Nas,
Beanie Sigel, Rick Ross, Tru Life (Dissin' Dipset), Kanye West +
the entire G-Unit, including 50, Banks, Buck, M.O.P., Mobb Deep & Lil' Scrappy.

1 - 5 Heartbeats- 50 Cent
2 - Tell It Like It Is- Ludacris
3 - Hands Up- Lloyd Banks feat. 50 Cent
4 - 44's- Jay-Z (Freestyle LIVE)
5 - Misdemeanor Freestyle- 50 Cent
6 - Ya Meen- Method Man feat. Styles P., Fat Joe
7 - Paper Chaser- 50 Cent
8 - Where Ya'll At- Nas
9 - Money In The Bank- Lil' Scrappy feat. Young Buck
10 - Why Wouldn't I- Beanie Sigel
11 - Nightmare- Mobb Deep feat. 50 Cent
12 - Live At The Parade- Tru Life (Dissin' The Diplomats)
13 - Gang Green Season- Lloyd Banks
14 - Chevy Ridin (remix)- Rick Ross, Game, Pusha T, Fat Joe, Etc.
15 - PA Shit- Freeway (Freestyle)
16 - Put Ya Hands Up- Young Chris
17 - Stop Pushing (Gangsta Boogie)- M.O.P.
18 - Stop Crying- 50 Cent
19 - Turn Off The Lights- Mary J. Blige feat. Jay-Z
20 - My House- Lloyd Banks feat. 50 Cent
21 - Deja Vu- Beyonce feat. Jay-Z
22 - Say- Method Man
23 - Number Ones- Pharrell feat. Kanye West
How To DOWNLOAD