DJ Noodles & DJ Buddha Present Pitbull - Sh*ttin On The Industry (Rebelution Collectors Edition)
Submitted by djheat1200 on Mon, 08/17/2009 - 4:34pm.
General | DJ Noodles | Mixtape Torrents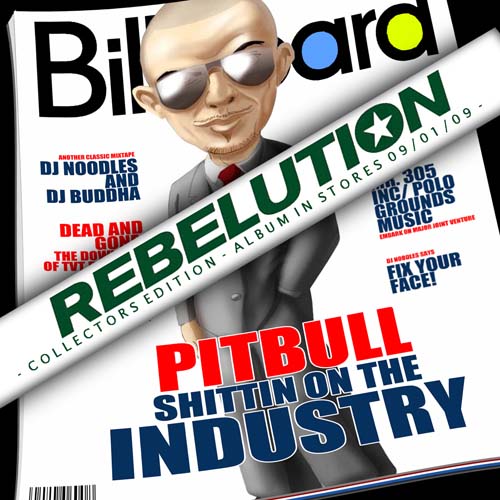 DJ Noodles, DJ Buddha team back up with Pitbull to bring you this limited REBELUTION COLLECTORS EDITION of the "Shittin On The Industry" Mixtape. All the hottest records from "Shittin On The Industry", along with exclusive world premiers off the new PITBULL album REBELUTION in-stores 09/01/09! Guest appearances from Trick Daddy, T-Pain, Robin thicke, Sean Kingston, Yo Gotti and MORE! Make Sure You Pick Up REBELUTION on SEPTEMBER 1st!!! Fix Your Face And Pay Attention!
01. Rebelution (Preview)
PRODUCED BY DJ NOODLES & DJ BUDDHA
02. Triumph ft. Avery Storm (Preview)
03. Pitbull Speaks #1 (Skit)
04. Maybach Music 3 ft. T-Pain
05. Nobody Do It Better
06. Congolmerate
07. Survival Of The Fittest
08. Picture Me
09. City Of Gods ft. Trick Daddy (Preview)
10. 5 Star ft. Yo Gotti
11. Watch It Drop
12. Cocaine Cowboy
13. Shittin On The Industry (Skit)
14. Nothing Nothing
15. Dope Ball (Preview)
PRODUCED BY DJ NOODLES
16. The Music Biz (Skit)
17. Can't Stop
18. Yayo ft. Billy Blue
19. What They Want
20. Bad Girls ft. Robin Thicke
21. Google Me
22. Can't Tell Me Shit
23. Give Em What They Ask For (Preview)
24. Therepy
25. O-K
26. I'm The Shit (Noodles Mix)
27. I'm In Miami Trick
28. Birthday Sex
29. I Know You Want Me (Calle Ocho)
30. Fire Burning ft. Sean Kingston
31. Back To The Future
32. Hotel Room Service (Urban Mix)
How To DOWNLOAD