DJ Noodles Presents Jay-Z - Bp3-Qual
Submitted by djheat1200 on Mon, 08/24/2009 - 11:19am.
Blends | DJ Noodles | Mixtape Torrents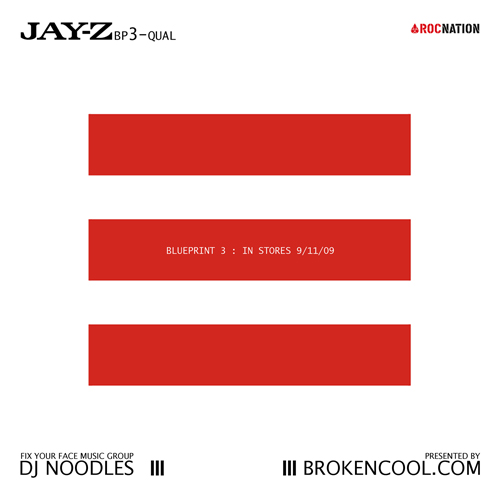 brokencool.com presents a DJ Noodles production..."Jay-Z: Bp3-Qual". As you wait for "Blueprint 3" to drop, DJ Noodles presents 2009's hottest mash-up/blends mixtape. This is sure to rock your digital deck until the wheels fall off.
DJ Noodles has a weekly mixshow on Sirius/XM Hip Hop Nation called "Fix Your Face Radio". He also has a weekly mixshow on Tampa's WLLD WiLD 94.1 and residency at Skye Nightclub.
Noodles production can be heard on Pitbull's new album REBELUTION in stores 9/1 featuring "Dope Ball" and "Pearly Gates" co-produced by Jim Jonsin & DJ Noodles.
01. Say You Will | Jay-Z + Rihanna
02. Successful | Jay-Z + Nas
03. 1000 Stacks | Jay-Z + Young Jeezy
04. Doa Part 2 | Jay-Z + Kanye West
05. The One | Jay-Z + Lil Wayne
06. Roc(Nation)Boys
07. Run This Town | Jay-Z + Rihanna + Kanye West
08. Lust For Life | Jay-Z + Drake
09. Off That | Jay-Z + Drake
10. The Real | Jay-Z + Kanye West + Jadakiss
11. He Asked For It
12. Im Addicted (To Fresh)
13. September 11th (Interlude)
14. Brooklyn Bucks
15. History
How To DOWNLOAD