DJ Got Now - The World Is Still Yours
Submitted by mfizzel on Sun, 09/24/2006 - 1:38pm.
Blends | DJ Got Now | Mixtape Torrents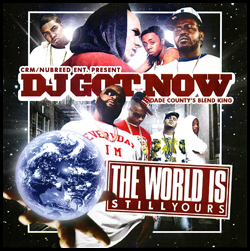 DJ Got Now is back serving up some of those theatrical, concept blends.
Not only blending the recent tracks, "Dade County's Blend King" puts some
work into this compilation of new blends.
Featuring pairings you might not get otherwise, Got Now puts your favorite
artists together like never before.
Featuring blends & remixes with Pun & Biggie, Chamillionaire & B.G., Lil'
Wayne & Tupac, Big L, T.I., Rick Ross, Jay-Z & Ludacris, Jeezy & Slim
Thug and more.

1 - DJ Got Now - Intro
2 - Trick Daddy, Pitbull & Rick Ross - Dade County Rideout (Got Now remix)
3 - Big Pun & Notorious B.I.G. - Grammy Night (Got Now remix)
4 - B.G. & Chamillionaire - Ain't No Secret (Got Now remix)
5 - Juelz Santana - Reppin Time (Got Now remix)
6 - Rap Stars - Trow Yo Hands In The Air feat. Pitbull. Ludacris, 50 Cent, Banks, Busta & Juelz (Got Now remix)
7 - Tony Yayo, Notorious B.I.G., Big L & 2pac - Pimpin (Got Now remix)
8 - T.I., Juvenile Jody Breeze & Rick Ross - Top Back (Got Now remix)
9 - Lil Wayne & Birdman - Stuntin Like My Daddy (Got Now remix)
10 - Slim Thug & Young Jeezy - Grill Em (Got Now remix)
11 - JR Writer - Grill Em (Got Now remix)
12 - Bone Thugs - Teach The World (Got Now remix)
13 - Obie Trice feat. 2pac , Lil Wayne & Robin Thicke - Mama (Got Now remix)
14 - Lil Wayne - Pow (Got Now remix)
15 - 36 Mafia, Yung Joc, Lil Wayne & Bow Wow - Side 2 Side (Got Now remix)
16 - Lil Scrappy & Young Buck - Money In Da Bank (Got Now remix)
17 - Rick Ross feat. Lil Scrappy, Lil Flip, Bun B & Lil Wayne - Push It (Got Now remix)
18 - Cherish feat. Jazzy Pha, Yung Joc & Jody Breeze - Do It (Got Now remix)
19 - Rihanna & Smitty - Unfaithful (Got Now remix)
20 - Cassie - Me & U (Got Now remix)
21 - Notorious B.I.G. & 2pac - Holla At Me Baby (Got Now remix)
22 - Jay-Z, Ludacris, Joe Budden, Busta & Twista - Bojangles (Got Now remix)
23 - Jamie Foxx & Twista - Love Song (Got Now remix)
24 - T.I. feat. Fat Joe, Justin Timberlake & Snoop - U Ain't No G (Got Now remix)
25 - Gnarls Barkley - Crazy (Got Now remix)
26 - Nas - One Mic (Got Now remix)
27- Show U How 2 Hustle - Ray Cash, Face, 50 & Young Buck (Got Now remix)
28 - Young Buck - Do It Myself (Got Now remix)
29 - Dem Franchize Boyz - Ridin Rims (Got Now remix)
30 - Young Jeezy - Trap Star (Got Now remix)
31 - Lloyd & Lil Wayne - You (Got Now remix)
32- Outro
**PLUS BONUS TRACKS
How To DOWNLOAD